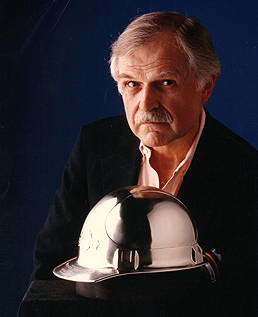 SAS Artisan William Frederick with a sterling hard hat.

If you are not accustomed to working with free-lance silversmiths, we will connect you with an Artisan who will assist you in the commissioning process.
Whether it's a tea service for formal dining, a Kiddush cup for the Jewish holidays, a handwrought serving piece for an upcoming wedding, or a trophy for a yachting race, we are your source for anything in silver, for any budget. We can also produce objects for corporate conventions, honored guests, individual recognition awards, anniversaries, and retirements.
Do you own a silver tray you're no longer using? Perhaps a Revere-style bowl you've grown bored with? Silversmiths have been repurposing silver for hundreds of years to satisfy the tastes of the time. The spouting then de-spouting of tankards, turning drinking vessels into trophies, even removing chasing on coffeepots for a more contemporary look. Contact us if you're no longer fond of a piece so that we may create something new and exciting as a continuing family heirloom. Don't scrap it, repurpose it!