The Hans Christensen Sterling Silversmith's Award
2000 Award Winner: Harold Schremmer * SAS Artisan Memorial
Jeffrey Herman, SAS Executive Director, 12/4/2014: It is a very sad day for the world of silversmithing. Harold Schremmer, arguably the most inventive and creative silversmith of his time, passed away at 10:12am EST at the Rhode Island Veterans Home. I was at his bedside.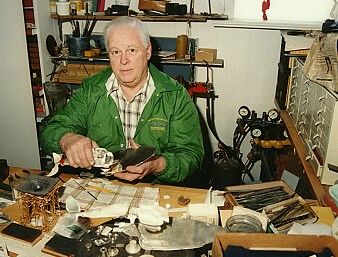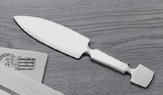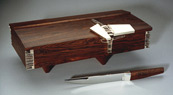 Click on the above thumbnails.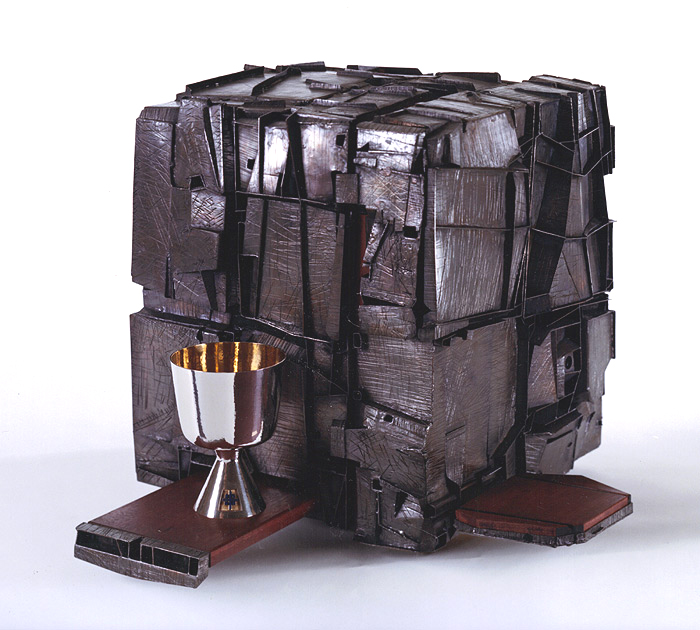 Above is a large closed patinated copper and rosewood tabernacle with pull-out shelves and a sterling chalice. Hal thought about how to store the chalice prior to service use.
The Society of American Silversmiths (SAS) is excited to announce its first recipient of The Hans Christensen Sterling Silversmith's Award. SAS Artisan Harold Schremmer, 72, of West Warwick, Rhode Island, received the prestigious accolade at SilverWorksII—the Society's annual silversmithing demonstration event held in Chepachet, Rhode Island.
The award is named after the late Hans Christensen, silversmith at Georg Jensen Silversmithy in Denmark, and Professor of Silversmithing at Rochester Institute of Technology, Rochester, New York. The annual award honors those individuals who have made significant contributions to the field.
Presented to Schremmer on June 3, 2000, was a full size sterling and walnut planishing hammer patterned after a 50th birthday present given to Hans in 1974 by his students. The hammer head is hand engraved: Hans Christensen Sterling Silversmith's Award, June 3, 2000, Harold Schremmer, A Sterling Silversmith. The hammer and sterling letters "HC" for Hans Christensen, and "HS" for Harold Schremmer, were created by Thomas Sandretto, former student and originator of the award. David Pimentel, also a former student of Hans's, created the base and support arms in sterling. Additional sponsors including Jim Chal, Chuck Evans, Ron McNeish, Jon Parry, and Byron Whitehurst, lent both financial and creative assistance. Also presented was a framed certificate. Upon presentation, Schremmer jokingly proclaimed: "It's about time!"
Schremmer, who has been a studio silversmith since 1958, also taught metal-arts at Maine College of Art in Portland and Rhode Island School of Design in Providence. His work is known throughout the world, designing and creating elimination trophies for six years for the America's Cup, and with pieces in the Vatican including an altar cross for the High Altar of Saint Peter's.
He has a diploma in silversmithing and jewelry making, graduating with honors in 1953 from the School of the Museum of Fine Arts, Boston, Massachusetts. He also has diplomas in silversmithing and jewelry making from schools in Schwabisch-Gmund and Pforzheim, Germany.
Schremmer was chosen from a wide field of eligible silversmiths residing in the United States. This year's selection committee was comprised of Jeffrey Herman, Executive Director of SAS, and SAS Artisans Robert Butler and Susan Ewing.
Harold Schremmer
Education

1969-1970: Part-time silversmithing and jewelry making student, Pforzheim, Germany
1967-1969: Full-time silversmithing and jewelry making student, Schwabisch-Gmund and Pforzheim, Germany
1949-1953: Diploma, silversmithing and jewelry making (graduated with honors), School of the Museum of Fine Arts, Boston, MA
Professional Experience

1958-present: Self-employed designer/silversmith working in studios throughout New England and Pforzheim, Germany since 1958. The West Warwick, RI studio has been maintained since 1987.
1956-1957: P.J. Gill, ecclesiastical silversmithing, Woburn, MA
Teaching Experience

1978-1987: Professor, silversmithing and jewelry making, Maine College of Art, Portland
1972-1974: Professor, silversmithing and jewelry making, Rhode Island School of Design extension school, Providence
1971-1972: "Teacher Innovations '73," Eastern Connecticut State College.
Instructor of metals program, Rhode Island School of Design, Providence
Gem setting construction and design, Rhode Island School of Design, Providence
Awards & Grants

1966: Traveling scholarship for further studies in Europe (School of the Museum of Fine Arts, Boston, MA)
1963: Louis Comfort Tiffany Foundation Grant (School of the Museum of Fine Arts, Boston, MA)
1956: Clarissa Bartlett Traveling Scholarship (School of the Museum of Fine Arts, Boston, MA)
1953: Rebecca Joslin Scholarship (School of the Museum of Fine Arts, Boston, MA)
1949: Three year scholarship to the School of the Museum of Fine Arts, Boston MA
Selected Shows
1997: "Artisans In Silver: Precious Illumination," an exhibition of the Society of American Silversmiths, Indiana University Art Museum, Bloomington, IN
1996: "Shreve's 200th Anniversary Artisan Silver Exhibition," produced by the Society of American Silversmiths
1995: "Artisans In Silver: The Vase," a traveling exhibition of the Society of American, Silversmiths, National Ornamental Metal Museum, Memphis, TN; The Arkansas Art Center, Little Rock, AR; The Newark Museum, Newark, NJ
1994: "Artisans In Silver 1994," a traveling exhibition of the Society of American Silversmiths, National Ornamental Metal Museum, Memphis, TN; Fuller Museum of Art, Brockton, MA; Muscarelle Museum of Art, Williamsburg, VA
1993: "Artisans In Silver 1993," a traveling exhibition of the Society of American Silversmiths, National Ornamental Metal Museum, Memphis, TN, Georgia State University Art Gallery, Atlanta
1992: "A Sterling Exhibition," a traveling exhibition of the Society of American Silversmiths, Worcester Center for Crafts, MA., National Ornamental Metal Museum, Memphis, TN, Pritam & Eames, East Hampton, NY
1991: "The Age of Chivalry," The Anchorage Museum of History & Art, Anchorage, AK
1990: "Reflections of the Past and Present Contemporary American Silver," the premier exhibition of the Society of American Silversmiths, The Society of Arts & Crafts Boston, MA
1967: Conference on Art & Architecture for Worship sponsored by the American Society for Church Architecture, Wesleyan University, Middletown, CT
1965: Ecclesiastical Art Exhibit (Honor award)sponsored by the American Society for Church Architecture, Chicago, IL
1964: "The Crafts and Worship," Dallas Museum of Fine Arts, TX, Religious Art Exhibition, City Art Museum of St. Louis, MO, American Society of Church Architecture annual conference (Award for excellence in religious art), Philadelphia, PA
1963: New England Invitational Crafts Exhibition, De Cordova Museum, Lincoln, MA, Exhibition of Contemporary Liturgical Art (First prize for crafts), Philadelphia, PA
1962: National Silversmithing and Jewelry Competition at the Rhode Island Arts Festival (First prize), Providence
17th National Decorative Arts, Witchita, KS
Society of Connecticut Craftsmen (First prize for silversmithing).
1960: 1st Biennial Conference (Member on lecture panel), Religious Art Center of America, Seaton Hall College, Greensburg, PA
1959: Traveling Scholars Exhibition, Museum of Fine Arts, Boston, MA
Boston Arts Festival, MA
Memberships
Juried Artisan, Society of American Silversmiths