| | |
| --- | --- |
| "South Carolina Silver: Varieties in Society 1750-1935" | May 15, 2010 – Jan. 31, 2011 |
A collection of silver used in South Carolina over two centuries can be seen at the South Carolina State Museum beginning May 15, in the elegant exhibit South Carolina Silver: Varieties in Society 1750-1935.
"We have quite a few pieces of fine silver in the collection, a lot of which has never been exhibited before, so it's a good time to bring it to the public," said Chief Curator of History Fritz Hamer.
"Silver has always interested people - it's shiny and beautiful and is associated with weddings, presentations, formal occasions. It's a symbol of appreciation for a well-done job. Many athletic trophies are of silver, also."
A wide variety of silver pieces can be seen in the exhibit, such as a silver service presented to John G. Richard when he left the governor's office in 1931, and various Charleston silver and place settings of different eras: an 18th - century breakfast setting, for example, and a men's silver set featuring humidors and tankards from the antebellum period.
Museum guests also will see a section of unusual flatware - mustard spoons, a fish slice and a tomato lifter, a very popular item in the 1850s and '60s. English and French silver used in South Carolina also are included.
"An exquisite set of two pitchers with ropes of silver as handles must be seen to be believed," said the curator. "Plus, there's a sweet meat stand of cut glass with a silver-engraved lid, among other intriguing items."
Two very interesting artifacts with an equally interesting story are pieces from a silver service given to former Civil War general John B. Gordon when he was a U.S. senator from Georgia.
"It was presented by the ladies of Columbia for Gordon's assistance in helping end Reconstruction in South Carolina, and for aiding his former Confederate comrade Wade Hampton in being declared governor of South Carolina after a contested election in 1876," Hamer said. Custom made to represent South Carolina, the pieces have palmetto trees on the lids, along with an inscription of thanks to Gordon.
In today's world, silver is not as commonly used in households. If it is, it's largely flatware, said Hamer. "However, one hundred years ago and more, it played a much bigger role. It showed people's status and taste. Also there were many more craftsmen who could produce more silver. The exhibit will show not only the taste of the time, but also the skills of the craftsmen."
Those skills, and that taste, will fascinate everyone who sees this appealing exhibit, the curator said.
"We were fortunate to have a number of items loaned to us that really add to this stunning exhibit," Hamer said. "In particular, many items from Dawn Corley, who is known as the 'Charleston Silver Lady,' add a great deal of substance."
In conjunction with the exhibit, the museum will present a series of luncheon lectures on South Carolina silver featuring Ms. Corley, beginning in June. For a complete schedule of events, contact the museum's public programs department at
803/898-4952 or visit www.southcarolinastatemuseum.org.
South Carolina Silver: Varieties in Society 1750-1935 can be seen through Jan. 31, 2011.
For more information, contact Fritz Hamer at 803/898-4921.
| | |
| --- | --- |
| "Gorham Silver: History + Production" | July 25, 2008 |
APRL 3237-01
Tuition: $145
Location DC 212 (Design Center)
Course Description: Gorham silver has a long historical association with Rhode Island, in addition to its acclaimed status among collectors and silver historians for its 19th-century design innovations and quality production. This course focuses on the history of Gorham, its connection to Rhode Island School of Design, and how its craftsmen were trained and the silver crafted. A vintage film produced by Gorham in 1926 is also included. The instructor * a noted expert on multiple flatware patterns as well as the coveted Art Nouveau Martele silver associated with the designs of William Codman * appraised the Gorham historical archives when it was gifted to Brown University in 1986. He discusses important production lines of the company and offers students an opportunity for hands-on experience with various Gorham silver pieces.
| | |
| --- | --- |
| "Silver in the Americas: The International Context" | May 2, 2008 |
Remis Auditorium, 8:30 a.m. to 5:00 p.m.
Museum of Fine Arts, Boston
Take part in a day-long symposium devoted to new scholarly research on the production, use, and consumption of silver in North, Central and South America at the Museum of Fine Arts, Boston. The day's sessions will address silver from Central and South America, the incorporation of international influences into the work of early nineteenth-century silversmiths, including the role of St. Louis as a cultural crossroads, and an exploration of the international context of twentieth-century silver, with examinations of silver at the World's Fairs and the Danish style in America.
This an international context. symposium will coincide with the publication of Silver of the Americas, 1600-2000, a catalogue of the silver acquired by the Museum of Fine Arts, Boston, since 1972. The book includes key works from colonial Massachusetts, from Central and South America, as well as works of the nineteenth and twentieth centuries. The day will conclude with a panel discussion by the book's authors and a reception, and will allow time for audience questions and discussion.
Speakers will include:
Mari-Tere Alvarez, J. Paul Getty Museum and Mendoza Research Project, University of Southern California
Carla Aymes, Independent Scholar and Curator
Graham C. Boettcher, Birmingham Museum of Art
Jeannine Falino, Independent Curator and Consultant
Carolyn Kelly, The Metropolitan Museum of Art
Christina L. Keyser, George Washington's Mount Vernon
Cristina Esteras, Universidad Complutense de Madrid
Jane L. Port, Independent Scholar and Curator
Rebecca Reynolds, Independent Scholar and Curator
Kevin Tucker, Dallas Museum of Art
Gerald W.R. Ward, Museum of Fine Arts, Boston
Anne Woodhouse, Missouri History Museum
Silver in the Americas: The International Context
Museum of Fine Arts, Boston
May 2, 2008
SCHEDULE
8:30-9:00 am: Registration and coffee
9:00-9:15 am: Introductory remarks by Gerald W.R. Ward, Katharine Lane Weems Senior Curator of Decorative Arts and Sculpture, Art of the Americas
9:15-11:00 am: Origins: Early Silver from Latin America
Mari-Tere Alvarez, Project Specialist, J. Paul Getty Museum and Mendoza Research Project, University of Southern California
From Ingot to Object: The Royal Silver Mint, the Mendoza, and the Commodification of Sixteenth-Century Mexican Silver
Carla Aymes, Independent Scholar and Curator
Mexican Silverwork from the Museo Franz Mayer
Cristina Esteras, Professor of Latin American Art History, Universidad Complutense de Madrid
Art and Tradition in Latin American Silver: A Reappraisal
11:00-11:15 am: Break
11:15 am -12:25 pm: Navigating the International Context
Christina Keyser, Assistant Curator, George Washington's Mount Vernon
Anthony Rasch: From Silversmith to Merchant
Anne Woodhouse, Shoenberg Curator, Missouri History Museum
Silver in Missouri: Convergence of International Influences
12:30-2:00 pm: Lunch on your own
2:00-3:30 pm: International Influences: Late 19th-to Mid-20th-Century Silver
Graham Boettcher, Luce Foundation Curatorial Fellow of American Art, Birmingham Museum of Art
The Viking Revival in American Silver, 1893-1925: A Lost Episode in the History of Design
Carolyn Kelly, Douglass Foundation Fellow, Department of American Decorative Arts, The Metropolitan Museum of Art
The Danish Style in American Silver
THE KATHRYN C. BUHLER LECTURE FOR 2008
Kevin Tucker, Margot B. Perot Curator of Decorative Arts and Design, Dallas Museum of Art
Past Future: American Silver at the World's Fairs, 1900-1964
3:45-4:45 pm: Panel Discussion with the authors of Silver of the Americas, 1600-2000
Jeannine Falino, Independent Curator and the former Carolyn and Peter Lynch Curator of Decorative Arts and Sculpture, Art of the Americas
Jane L. Port, Independent Scholar and Curator
Rebecca Reynolds, Independent Scholar and Curator, and the former Jean S. and Frederic A. Sharf Fellow of Decorative Arts and Sculpture, Art of the Americas
Gerald W.R. Ward
Concluding Remarks: Elliot Bostwick Davis, John Moors Cabot Chair, Art of the Americas
5:00-7:00 pm: Reception
Tickets
$35 general admission
$20 MFA members/students/seniors
For further details and registration please visit www.mfa.org/collections (click on Art of the Americas), www.mfa.org/tickets (click on Events and Classes), or e-mail Jessica Roscio at jroscio@mfa.org
| | |
| --- | --- |
| "Arts and Crafts Metalwork in Detroit: Promotion / Patronage / Production" | March 37, 2008–March 31, 2008 |
You can read the entire program here.
| | |
| --- | --- |
| The Architect's Table: Swid Powell and Postmodern Design | June 17, 2007–June 17, 2008 |
The Architect's Table: Swid Powell and Postmodern Design celebrates the Swid Powell Collection and Records, now housed at the Yale University Art Gallery. The company, founded in 1982 by Nan Swid and Addie Powell, produced innovative housewares designed by the foremost architects of the time, including Frank Gehry, Zaha Hadid, Stephen Holl, Richard Meier, Robert A. M. Stern, Stanley Tigerman, and Robert Venturi, among others. Its blend of architecture, fashion, and decorative arts made it arguably the most important American design undertaking of the 1980s.
Through meticulous research and marketing, Swid Powell helped architect-designers transform their ideas into finished objects. The company made progressive architecture accessible to a wider audience, introducing a generation of consumers to high-quality, well-designed tablewares. The marketing of Swid Powell was crucial to its success: novel advertising campaigns, bold graphics, and the role of famous architects helped solidify the prestige of the brand. Within the architectural community, Swid Powell had a lasting impact as its efforts inspired many architects to reevaluate their own relationships to decoration and fostered a trend of architect-designed housewares that continues to this day.
The Architect's Table features a selection of objects and archival materials from the collection's holdings of over 1,200 prototypes, realized products, sketches, and design drawings. Examples of best-selling designs, including Gwathmey-Siegel's "Tuxedo" pattern plates and Richard Meier's silver candlesticks, complement lesser-known works, like a place setting by then-emerging architect Zaha Hadid. Numerous prototypes explore the design process, as seen in a series of coffee pots by Robert Venturi, each with a different proposed decorative scheme. The exhibition also includes original advertising images and brochures, as well as examples of architect-designed furniture from the Gallery's permanent collection.
The Architect's Table is divided into six sections that underscore the breadth of Swid Powell's activities. The first section explores the design process through sketches and prototypes, including a model for a water pitcher by Italian designer Ettore Sottsass and a proposed design for a tea set by woodworker Stanley Tigerman's designs for Swid Powell, which blend wit and fantasy with postmodern architectural theory, are the focus of the second section. Included is an important tea set that recreates in porcelain a complex of buildings he constructed in Michigan.
In 1990, Swid Powell commissioned the "Architect's Collection," a sumptuous group of designs that form the third section. Produced at a time when popular interest in Swid Powell was beginning to falter, these unique, often impractical objects were bold statements of architectural ideals intended to capture public attention for the company and architects. The fourth section focuses on the work of Zaha Hadid, Steven Holl, and Michael Rotondi. In the early 1980s, these young architects were more famous for their writings than for their buildings, and these objects can be understood as three-dimensional manifestations of their abstract theories.
The fifth section looks beyond architecture to works designed by painters and sculptors, including a plate emblazoned with a photograph by Robert Mapplethorpe. The importance of artists and architects within contemporary society surfaces in Swid Powell's advertising, which focused as much on the personalities behind the products as on the products themselves. The final section celebrates the myriad architects and designs that made Swid Powell famous. Emulating a table set for a dinner party, it brings together many of Swid Powell's most iconic objects in a lively conversation about design, architecture, and style in 1980s America.
The Architect's Table is organized by John Stuart Gordon, the Benjamin Attmore Hewitt Assistant Curator of American Decorative Arts.
Related Programming
John Stuart Gordon presents an exhibition talk for the public on Wednesday, September 26, at 12:20 pm. A master class, "Design by Architects," will be given in three sessions by Mr. Gordon on Thursdays, September 20, 27, and October 18, at 5:30 pm. The series will investigate the role of architect as designer from the mid-twentieth century through today. Fee: $30 for series to members; $45 for nonmembers; free for students with valid ID. Enrollment limited to twelve participants. To register, please call 203.432.9525.
Swid Powell Collection and Records
Now housed at the Yale University Art Gallery, the Swid Powell Collection and Records is an unparalleled, comprehensive collection of arguably the most important American decorative art and design undertaking of the 1980s. It constitutes the materials retained by Nan Swid after the company ceased operations in the early 1990s. The breadth of its holdings charts the development of their products from idea through to finished object. The collection and records hold valuable information for art historians, architects, graphic designers, artists, and students of marketing and product design, as well the general public.
Yale University Art Gallery
Founded in 1832, when patriot-artist John Trumbull donated more than 100 of his paintings to Yale College, the Yale University Art Gallery is the oldest college art museum in the United States. Today, the Gallery's encyclopedic collection numbers more than 185,000 objects ranging in date from ancient times to the present day. These holdings comprise a world-renowned collection of American paintings and decorative arts; outstanding collections of Greek and Roman art, including the artifacts excavated
at the ancient Roman city of Dura-Europos; the Jarves, Griggs, and Rabinowitz Collections of early Italian paintings; European, Asian, and African art from diverse cultures, including the recently acquired Charles B. Benenson Collection of African art; art of the ancient Americas; the Société Anonyme Collection of early twentieth-century European and American art; and Impressionist, modern, and contemporary works. The recently completed renovation of the Gallery's 1953 Louis Kahn building is
part of a comprehensive renovation and expansion of the museum's entire facility, scheduled for completion in 2011.
Located at the corner of Chapel and York Streets in New Haven, the Gallery is open to the public free of charge: Tuesday–Saturday 10:00 am–5:00 pm, Thursday until 8:00 pm (September–June); Sunday 1:00–5:00 pm. For additional information, the public may visit http://artgallery.yale.edu, or call 203.432.0600.
For additional press information, please contact Amy Jean Porter, Associate Director of Communications, 203/432-0611, or amy.porter@yale.edu.
| | |
| --- | --- |
| A Celebration of Limerick' Silver | Sept. 17, 2007–13th Jan. 13, 2008 |
Limerick silver is exceptionally rare and highly treasured. Produced over a short period of just over 200 years, mainly from the 17th century to the 19th century, it is valued for its rarity and the quality of the craft. A Celebration of Limerick's Silver reveals the forgotten achievements of generations of craftspeople.
This exhibition brings together a comprehensive collection of silver made in Limerick and includes pieces which have strong associations with the city and region. Household items, such as dish rings, soup tureens, and marrow spoons will be juxtaposed with items of major civic importance, for example, the city mace, the University mace as well as historic GAA and Olympic medals, sporting trophies and contemporary pieces.
Guided tours are available daily at 2.30pm, or by prior arrangement for groups.
Admission to the exhibition is €5. A combined ticket for the museum and the permanent collection is €9.
The Hunt Museum is also offering Day Trip and Short Break packages, details are listed below.
If you would like further information, or would like to make a booking do not hesitate to contact me.
The Hunt Museum
The Customs House
Rutland St, Limerick
Telephone: +353 (0)61 490 087
Mobile: +353 (0)87 611 0684
Email: reservations@huntmuseum.com
www.huntmuseum.com
| | |
| --- | --- |
| Major Gem Show Features Work of John Marshall | June 17, 2007–June 17, 2008 |
WORLD-RENOWNED COLLECTION OF GEMS TO OPEN AT BOWERS MUSEUM
"Colors of Light and Stone," the Expanded Gem Collection of Michael Scott, Returns to the Museum from June 17, 2007 for a Year-Long Run
(SANTA ANA, Calif. — May 10, 2007) In early 2002, Bowers Museum made history with the first public exhibition in a museum of the priceless Michael Scott gem collection. More than 300 exquisite pieces showing a rainbow range of colors and the rarity of stones displayed the scientific and artistic aspects of gemstones. It was then exhibited in 2005 at the Shanghai Museum where it was enjoyed by more than 850,000 visitors. Arguably the most important private gem collection in the United States, with few rivals in the world outside of the royal families, it's back and features even more luxurious pieces. "Colors of Light and Stone" opens on June 17, 2007 for a year-long run in the new Anderson-Hsu-Tu Gallery of Bowers Museum.
"'Colors of Light and Stone' is the most important exhibition of colored gemstones, diamonds and gems as art ever shown in a U.S. museum.," says Dr. Peter Keller, president of Bowers Museum, who is also a geologist and gemologist and who curates this exhibit. "What is particularly impressive is that the collection was amassed by one individual in only about 14 years!"
Michael Scott, the first president of Apple Computer has a collection that rivals that of any national museum, if one excludes historic jewelry such as the Hope Diamond. The collection focuses on quality, but also on variety. In "Colors of Light and Stone" one will see most of the major gem species in every color and variety known. In addition, one will see very rare examples of little known color varieties such as green tanzanites and "electric-blue" Paraiba tourmalines. It also includes 25 examples of cut "collector" stones—those too rare to be used in the general jewelry trade.
The Scott Collection and the exhibition also focus on gemstones as art, largely German gem carvings by artists Bernd Munsteiner and Gerd Dreher and the work of Seattle-based silversmith/contemporary artist, John Marshall, plus some antique jewelry from the mid-19th to early 20th centuries.
The exhibit will feature dramatic lighting to showcase each piece, from gems in their natural state and those faceted by master gem-cutter. "The Scott Collection exhibits some of the finest examples of both rough crystals and cut stones known in collections today," says Keller. In addition, there will be gems displayed as jewelry and sculpture. "It will be a very comprehensive look at gemstones and gems as art through the eyes of a very serious collector," says Keller.
What is a Gemstone?
Gems have been sought after for literally thousands of years. What is a gemstone? Gemologists believe that gemstones are any of the more than 4,000 known mineral species that have three distinguishing characteristics. A gemstone must be beautiful, which is the most basic requirement since gems are meant to be worn to enhance the wearer's appearance; a gemstone must be durable enough to withstand the rigors of being worn in jewelry; and lastly, a gemstone must be rare, but not too rare. For if a gemstone is too rare to be marketed to the public, it's still considered a gem, but it's a collector's stone not usually worn or even known of by the general public. Stones can also be beautiful and rare, but if they are not durable and can't be worn, they, too, are considered "collector stones." There are some spectacular examples of collector stones in the exhibit including ruby red rhodochrosite, diamond-like calcite and a wide range of fluorite or fluorescent colors.
Traditional Precious Stones
The traditional "precious stones," diamond, ruby, sapphire and emerald, are well represented in this exhibition. In addition to a 25-carat natural octahedral diamond crystal, there is a 21.25-cut carat stone from the historic mines in India. Ruby and sapphire also are very well represented. Here, the same mineral, corundum, owes its complete color spectrum to various impurities. A few parts per million chromium allow for the rich red color of a ruby. That same mineral, with a few parts per million of iron will make the stone blue or, if the iron is oxidized, yellow. So it goes with an infinite variety of color possibilities.
Rare Stones
The rarest of a sapphire is in the exhibition. It's a 16-carat padparadscha sapphire that is the color of a pinkish-orange lotus flower. Emeralds from not only the historic mines in Colombia, but new discoveries in Nigeria are very exciting. One also will see what, for all practical purposes, is a red emerald. This rare mineral, known as bixbyte, has not been named commercially and is only found in the state of Utah. Imagine an emerald that is ruby red.
Geologic bodies known as pegmatites are famous among mineralogists for producing rare minerals and very large crystals. The state of Minas Gerais, Brazil, is the most famous locality for these gems, including tourmaline, aquamarine, kunzite, garnet, topaz and quartz. Another famous locality is San Diego County. The areas around Pala, Mesa Grande and Ramona have produced spectacular examples of these gems for more than 100 years. Many of these, including an incredible spessartite garnet necklace, are highlighted in "Colors of Light and Stone."
Newly Discovered Species
Rarely are new gemstone species discovered. Two specimens in this exhibit, blue tanzanite and green tsavorite garnet, were both discovered in the late 1960s near the Kenya–Tanzania border, literally in the shadow of Mt. Kilimanjaro. In "Colors of Light and Stone" there is a 242-carat tanzanite that is believed to be the world's largest and two tsavorites weighing 32.35 carats and 45.62 carats, which are among the world's largest.
Gems as Art
Man has been fashioning gem materials into works of art since the Romans carved bowls and cameos out of carnelian and the Han Dynasty Chinese were making ceremonial objects from jade at about the same time. "Colors of Light and Stone" is also about gems as art. Its strength is in the European traditions, particularly that found in a small village in Southwestern Germany known as Idar Oberstein. In addition to the traditional animal carvings done very much in the spirit of Fabergé, "Colors of Light and Stone" features the work of a master faceter, Bernd Munsteiner. In fact, the entire exhibition is capped off with the world's largest faceted gemstone&ldots;a 200 pound, or 500,000 carat, rutilated quartz titled "Metamorphos" by Munsteiner.
Finally, this exhibition features the work of Seattle-based master silversmith John Marshall. Marshall incorporates natural gem crystals into unusual silver sculptures to yield very unique works of art.
"What is extraordinary about this exhibit is the quality, diversity and size of these great gem species," says Keller.
Bowers Museum is located at 2002 North Main Street in Santa Ana. Admission prices for eight exhibits that include "Colors of Light and Stone," "Treasures from Shanghai: 5,000 Years of Chinese Art and Culture" and "Mummies, Death and the Afterlife of Ancient Egypt&ldots;Treasures from the British Museum" and five permanent exhibits are adults: weekends $19 and weekdays $17; senior (62+) and students: weekends $14 and weekdays $12. Children under 6 are free. As a special membership privilege to commemorate the grand opening of the Dorothy and Donald Kennedy Wing, $65 memberships ($45 for seniors and students) gain entry for two adults and all children in the household under the ages of 18 all year until May of 2008.
| | |
| --- | --- |
| Silver Design in Sweden | February 14–May 8, 2007 |
Exhibition: Five Centuries of Swedish Silver from the Collection of the Röhsska Museum
Press Preview: Monday, February 12, 12–2 pm
Content
The exhibition is the first in the United States to present the history of silver design in Sweden, documenting international influences and charting the evolution of a distinctive Swedish style as it developed over the last 500 years. Organized by the Röhsska Museum in Gothenburg, Sweden, the exhibition features approximately 100 objects demonstrating the unparalleled virtuosity of Swedish silversmiths from the 17th century to the present day. The exhibition documents Swedish artisans' interpretations of Baroque, Rococo, Neoclasssical, and Art Nouveau styles imported from other European countries and traces the roots of the clean, elegantly restrained Swedish modern style that won that country's designers international recognition by the mid-20th century and continues to inspire Swedish silversmiths today.
Organization
The exhibition is organized by the Röhsska Museum in Gothenburg, Sweden and is the first exhibition from that museum ever to visit the United States. First shown in San Francisco, Five Centuries of Swedish Silver from the Collection of the Röhsska Museum has since traveled to Ottawa, Canada and will continue its journey with a visit to Shanghai, China after its presentation in New York.
Support
This exhibition is made possible in part by Barbro Osher/Pro Suecia Foundation, Christina Lang Assael, Ambassador and Mrs. Lyndon L. Olson, and the John L. Loeb, Jr. Foundation.
Gallery Information
Tuesday–Saturday, 12–6 pm
Admission: $3, $2 students and seniors 65+
Scandinavia House: The Nordic Center in America is located at
58 Park Avenue between 37th and 38th Streets, New York City.
General Information: 212/879-9779 or www.scandinaviahouse.org
Press Contact: Joan Jastrebski, 212/847-9717 or joan@amscan.org
| | |
| --- | --- |
| Paul Revere Subject of Historical Lecture | October 20, 2005 |
Paul Revere will be the subject of a lecture to be held on Thursday, Oct. 20, at 7:30 p.m. at the Dedham Historical Society auditorium, 612 High St.
Anthony M. Sammarco, historian, author and lecturer will present: "Paul Revere: Silversmith, Patriot & American Icon." There is no charge for members; the cost for non-members is $5.
Dedham Historical Society has Paul Revere silver from the Hannah Shuttleworth estate, a Revere bell from the court house, and the face on a Simon Willard clock, done by Revere.
Sammarco has authored more than 50 books and is treasurer of Bonney's Express. He is a graduate of the University of Massachusetts. He is curator and a resident of the Suffolk Resolves House in Milton and author of a weekly column "A Piece of Our History." He teaches history at the Urban College of Boston, where he was named educator of the year in 2003.
He has received the Bulfinch Award from the Doric Dames of the Massachusetts State House, and the Washington Medal from Freedom Foundation for his work in history. He is a fellow of the Mass. Historical Society, a member of the Boston Author's Club and is a proprietor of the Boston Athenaeum. He is treasurer of the Victorian Society, New England Chapter and a member of the Milton Historical Commission, and curator of the Milton Historical Society, a trustee of the Forbes House Museum, and past president of the Bay State Historical League and the Dorchester Historical Society, and has had many other involvements.
More information and directions are available on the society's Web site at www.dedhamhistorical.org.
Georg Jensen Jewelry

July 14, 2005 through
October 16, 2005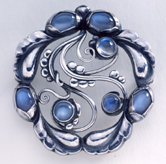 From July 14 through October 16, 2005, The Bard Graduate Center for Studies in the Decorative Arts, Design, and Culture is presenting Georg Jensen Jewelry, the first comprehensive examination of the renowned Danish silversmith's jewelry production, exploring its evolution from the firm's founding in 1904 to the mid 1970s. Georg Jensen, one of the greatest design companies of the 20th century, is still in operation today. Continuing the Bard Graduate Center's longstanding commitment to Scandinavian design scholarship, Georg Jensen Jewelry expands upon exhibitions including Finnish Modern Design (1998), Utopia and Reality: Modernity in Sweden, 1900–1960 (2002), and Marimekko: Fabrics, Fashion, Architecture (2003).
Comprising more than 300 examples of jewelry, hollowware, drawings, period photographs, and archival material, the exhibition will not only provide an in-depth look at the company's history and production, but also analyze the stylistic influences on Georg Jensen himself and the various pioneering designers who succeeded him in the mid 20th century. Loans from public and private collections in the United States, Scandinavia, and elsewhere in Europe include objects never before exhibited and highlight the results of new research in the Georg Jensen Ltd. archives. The curator of the exhibition is Dr. David A. Taylor, an expert on material culture at the Library of Congress in Washington, D.C. He is the author of Georg Jensen Hollowware: The Silver Fund Collection (2003) and other scholarly books and articles on design and craftsmanship.
Background
Georg Jensen (1866–1935) founded his eponymous silversmithy in Copenhagen in 1904. Though he finished his apprenticeship with the goldsmith A. R. Andersen at the age of 18, his true ambition was to be a sculptor. He soon fashioned a plaster bust of his father that gained him admission into the Royal Danish Academy of Art in 1887. Despite critical success at international exhibitions, his career as a sculptor did not prove to be financially viable. His next venture, a small art-pottery workshop with his friend Joachim Petersen, also failed to make a profit. Their atypical creations, featuring fantastical figures and unusual glazes, received mixed critical reception.
Jensen returned to metalwork in 1901, taking a job as a foreman for the painter-turned-goldsmith Mogens Ballin. His two years at Ballin's firm undoubtedly influenced his design sensibility, and when he opened his own workshop in 1904, the stylistic similarities between Jensen's and Ballin's jewelry were striking. Success came quickly for Jensen, who had a natural aptitude for fashioning silver and soon developed his hallmark sculptural style. His thoroughly fresh and modern jewelry established his reputation as one of the foremost Danish designers of his time. Hollowware and flatware production followed in the wake of his critical and financial triumph. International museums, such as the Danish Museum for Decorative Art and the Folkwang Museum in Germany, quickly recognized the exceptional quality of the design and craftsmanship of his work and promptly purchased Jensen pieces for their collections.
In 1909 a retail shop opened in Berlin, and the following year, Jensen received a gold medal for the work he displayed at the International Exhibition in Brussels. In 1912, a larger workshop and a larger retail shop opened in Copenhagen. Jensen silver was exhibited for the first time in the United States in 1915 at the Panama-Pacific International Exposition in San Francisco, receiving much critical acclaim. In 1921, a retail shop debuted in London and, in 1924, another in New York City. International awards continued with the grand prix at international exhibitions in Paris (1925), Barcelona (1929), and Brussels (1935).
Reflecting on his career at the age of 60, Jensen said in 1926, "I felt that in silver I could unite my skills as a sculptor and a smith." Even at the height of his success as a silversmith, he never ceased to identify himself as a sculptor, a title he displayed prominently on his company letterhead. Indeed, his sensibility as a sculptor informed his work as a smith and set him apart from his contemporaries. His dual identity as craftsman and artist largely contributed to his phenomenal success and found its greatest harmony in his works in silver.
The Exhibition
Retrospective in nature, the exhibition is organized both chronologically and thematically. It begins with Jensen's work as a sculptor and ceramist, examining his artistic development as a young man, and continues with his earliest jewelry, such as a rare belt buckle depicting Adam and Eve made in 1899. It also includes his jewelry from the workshop of Mogens Ballin.
The next section contains an extensive selection of jewelry that showcases the continuity and change of the firm's designs during Jensen's lifetime. It examines the range of organic and figurative subjects and identifies predominant decorative motifs. These patterns reveal the "grammar" of Jensen's design vocabulary and show how he combined motifs in different ways—allowing them to "migrate" from piece to piece—in order to create new designs efficiently.
The display also illuminates the influence and progression of national and international artistic styles, beginning with skønvirke, a turn-of-the-century style that emerged from the Danish Arts and Crafts Movement. Little attention has been paid to this noteworthy aspect of Jensen jewelry. Superb examples of skønvirke jewelry made by Jensen's contemporaries from the Danish Museum of Decorative Art in Copenhagen place Jensen's own stylistic development in a cultural and historical context. Furthermore, they reveal how Georg Jensen surpassed his peers and kept his skønvirke pieces on the market and in the public eye long after the style had been supplanted. The international influence of the abstract, organic forms of art nouveau and Jugendstil are also evident in the evolution of Jensen jewelry, as shown through comparative pieces.
The years after World War II witnessed a new triumph for the Jensen firm. Designers such as Henning Koppel, Vivianna Torun Bülow-Hübe, Nanna Ditzel, Astrid Fog, Bent Gabrielsen, and Arno Malinowski brought the company back to the forefront of the international design scene. They pushed the firm in new directions and created the Jensen company's own interpretation of Scandinavian Modern. These successors to the Jensen mantle, while creating distinct, individual styles, maintained the founder's spirit and love of the material, evident in his often-quoted meditation: "Silver captures the moonlight's glimmer—like the light of a Danish summer night. It can darken, and it can, when it dews, become like a will o' the wisp."
An illustrated catalogue, the first scholarly book devoted to Georg Jensen jewelry, edited by Dr. David A. Taylor, features essays by a number of prominent international scholars including Dr. Taylor, Toni Wolf Greenbaum, Mirjam Gelfer-Jørgensen, and Isabelle Anscombe. The catalogue will be published by the Bard Graduate Center in collaboration with Yale University Press. It includes previously unpublished color photography of jewelry from public and private collections in Denmark, western Europe, and the United States.
An array of lectures, panels, and other offerings will be presented in conjunction with Georg Jensen Jewelry. For further information, please call 212.501.3011 or
e-mail programs@bgc.bard.edu.
Group tours of Georg Jensen Jewelry are available Tuesday through Friday between 11:00 a.m. and 4:00 p.m. and on Thursday until 7:00 p.m. Reservations are required for all groups. For further information, please call the Bard Graduate Center Gallery at 212.501.3013, or e-mail gallery@bgc.bard.edu.
The Bard Graduate Center is located at 18 West 86th Street, between Central Park West and Columbus Avenue, in New York City. Gallery hours are Tuesday through Sunday from 11:00 a.m. to 5:00 p.m. and Thursday from 11:00 a.m. to 8:00 p.m. Admission: $3 general, $2 seniors and students (with valid ID). Free admission Thursday evenings. For further information about the Bard Graduate Center and upcoming exhibitions, please visit our website at www.bgc.bard.edu.
Smithsonian American Art Museum Debuts Touring Exhibition "Modernism in American Silver" at its Renwick Gallery

September 16, 2005 through
January 2, 2006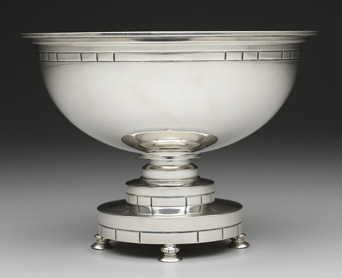 Smithsonian American Art Museum Debuts Touring Exhibition
"Modernism in American Silver: 20th-Century Design" opens at the Renwick Gallery of the Smithsonian American Art Museum on Sept. 16 and runs through Jan. 22, 2006. The exhibition is organized by the Dallas Museum of Art and begins its national tour at the Renwick Gallery.
"Modernism in American Silver" will highlight more than 200 outstanding works, from art moderne to contemporary, by the foremost designers of production silver. Widely recognized figures such as Eliel Saarinen, Erik Magnussen, Robert Venturi, Michael Graves, Elsa Peretti and Richard Meier are among the featured designers. Many of the works included in the exhibition are from the Dallas Museum of Art's Jewel Stern American Silver Collection which includes over 400 examples of modernist silver.
"This landmark exhibition in the decorative arts field showcases an unparalleled collection of American silver. The stylistic breadth and aesthetic quality of these works are exceptional," said Elizabeth Broun, The Margaret and Terry Stent Director of the Smithsonian American Art Museum. "It is a privilege to have 'Modernism in American Silver' launch a national tour at the Renwick Gallery."
The exhibition's primary goal is to chart the stylistic design history of modern American production silver from 1925 to 2000 and reintroduce to the public the many designers working in the industry. The exhibition also will explore economic and cultural factors that influenced silver design, manufacture and marketing across more than seven decades and seven major thematic areas:
"The Modernist Impulse: Art Moderne
"The Machine Age: Streamline Design
"Modern Classicism
"Naturalism: Scandinavian Influences
"A New Look: Free Form and the 1950s
"Future Dreams: The Space Age
"The Boutique: Architects and Fashion Designers
"Modernism in American Silver" also will offer important revelations concerning the role of designers such as John Prip, Helen Hughes Dulany, Robert King, John Van Koert, Alexandra C. Solowij, Donald Colflesh and Tommi Parzinger.
"Craft artists who design for industry, and continue to make one-of-a-kind works, interject an aesthetic that reflects their technical virtuosity and understanding of what the material can do," said Jane Milosch, curator at the Renwick Gallery. "'Modernism in American Silver' offers a grand stage from which to appreciate how craft informs design, and how good design is a part of every well-crafted object."
Kevin W. Tucker, The Margot B. Perot Curator of decorative arts and design at the Dallas Museum of Art, is the project manager and co-curator. Charles L. Venable, deputy director for collections and programs at the Cleveland Museum of Art, and independent scholar Jewel Stern are the guest co-curators of this exhibition. Jane Milosch, curator, is coordinating the exhibition at the Renwick Gallery.
Credit
"Modernism in American Silver: 20th-Century Design" was organized by the Dallas Museum of Art. The exhibition is supported by a generous grant from the National Endowment for the Arts. Publication of the exhibition catalog was underwritten by The Tiffany & Co. Foundation. The James Renwick Alliance supports the exhibition's presentation at the Renwick Gallery.
Book
An accompanying catalog will present a comprehensive examination of the works and serve as an important resource on American production silver-more extensive than any other of its kind currently available. Authored by Jewel Stern, the catalog includes additional essays by Charles L. Venable and Kevin W. Tucker. Published by Yale University Press, the book will be approximately 390 pages in length with numerous, lavish color illustrations. The book will be available at the Renwick Gallery store, the museum's online shop and bookstores nationwide for $75.
Public Programs
A schedule of public programs, including lectures, artist demonstrations and performances is available in a brochure. Call (202) 233-0667 to request a copy by mail or visit the museum's online program calendar at AmericanArt.si.edu.
National Tour
Following its presentation at the Renwick Gallery, the exhibition will be on view at the Dallas Museum of Art (June 18 through Sept. 24, 2006), The Wolfsonian - Florida International University, Miami (Nov. 17, 2006 through March 25, 2007), and the Dixon Gallery and Gardens, Memphis, Tennessee (April 22 through July 15, 2007).
The Renwick Gallery of the Smithsonian American Art Museum is dedicated to exhibiting American crafts and decorative arts from the 19th to the 21st century. The Renwick is located on Pennsylvania Avenue at 17th Street N.W., near the Farragut North (Red line) and Farragut West (Blue and Orange lines) Metrorail stations. Museum hours are from 10 a.m. to 5:30 p.m. daily. Admission is free. Smithsonian Information: (202) 633-1000; (202) 357-1729 (TTY). Recorded information: (202) 275-1500. Please visit the museum's award-winning Web site at AmericanArt.si.edu.
Note to Editors: Selected high-resolution images for publicity only may be downloaded from ftp://saam-press@ftp.si.edu. Call (202) 275-1594 for the password. Additional information about the exhibition will be available in the museum's online press room.
| | |
| --- | --- |
| "Style, Status, Sterling: The Triumph of Silver in America" at the Newark Museum of Art. | March 30, 2005 through March 2006 |
This exhibition traces America's love affair with sterling silver. Silver began as a rare luxury for the elite in colonial times and became a hugely popular commodity in the Victorian era, attracting millions of American consumers. By 1900, silver had triumphed in America; production was at its peak, and sterling silver objects could be found in the majority of American households. By 2000, however, the American silver industry had collapsed, and its principal factories were gone, a victim of changing American lifestyles. Silversmithing lives on today in America as an art form, with silver objects collected by people who value craftsmanship and design. In this way, silver has come full circle, and is now as luxurious and rare as it was in the colonial period.
Amazingly, the meaning of silver in American life has changed very little over 350 years. Silver has always implied wealth and conferred status on those who own it. It has always been appreciated for its beautiful color and shine–the maintenance of which played a major role in its decline in the American home.
The exhibition also celebrates a quarter-century of collecting silver at this Museum. Between 1980 and 2005, I have been fortunate to add many significant examples of American silversmithing to the collection here. You will also be able to find important silver in the House & Home galleries, and in the Picturing America galleries, both adjacent to this exhibition.
Ulysses Grant Dietz, Curator of Decorative Arts
http://www.newarkmuseum.org/silverinamerica
| | |
| --- | --- |
| All That Glitters Is Not Gold: The Story of New England Silver | March 13, 2005 |
The New Hampshire Historical Society in Concord, NH will be hosting a new exhibition opening on March 5 titled Treasures of New Hampshire. It will feature a wide array of New Hampshire decorative arts including several silver items.
As part of an extensive lecture series accompanying the exhibition, NHHS will be sponsoring the following event:
Free Lecture: "All That Glitters Is Not Gold: The Story of New England Silver," Barbara Ward, Ph.D., Director and Curator of the Moffatt-Ladd House and Garden. The Tuck Library, 30 Park St. Call 228-6688 for directions.
Mark Foynes, Director of Education
New Hampshire Historical Society
6 Eagle Sq.
Concord, NH 03301
603/856-0611
| | |
| --- | --- |
| Boris Bally: Urban Enamels at Fuller Craft Museum | through August 29, 2004 |
Boris Bally finds creative uses for recycled materials in his exhibition Urban Enamels at Fuller Craft Museum through August 29th. Recycled traffic signs are transformed into cleverly functional furniture and objects with bold colors and images. His Transit Chairs, DPW Bowls, jewelry, sculpture and flatware transform everyday things that nobody wants or knows what to do with into exquisite works of art.
Reception: July 25, 2pm
| | |
| --- | --- |
| The Charleston Museum to Exhibit Charleston's Most Sacred Silver | June1-October 31, 2004 |
Contact: Rachel Giesy
The Charleston Museum
360 Meeting St.
Charleston, SC 29403
(843) 722-2996 ext. 235
rgiesy@charlestonmuseum.org
Charleston, SC: In association with local churches and synagogues, The Charleston Museum will present an original exhibition, Sterling Faith: 300 Years of Charleston's Sacred Silver. The exhibit, focusing on unique ceremonial and sacred treasures never before exhibited publicly, will run from June 1 through October 31, 2004. Many of the artifacts in the display depict the fine craftsmanship of South Carolina silversmiths including Miles Brewton, Enos Reeves, and Hayden & Whilden.
"It will be one of the largest collective displays of ceremonial and sacred artifacts put together in Charleston and a great interpretation of southern religious heritage and how it developed in South Carolina," explains Grahame Long, the Museum's curator of history. "In creating this exhibition, we have found detailed written records on these pieces and discovered new aspects of silversmithing in Charleston." Also of interest will be chalices and flagons from South Carolina's early parish system, menorahs used in private ceremonies, rare silver communion tokens that survived burning and looting during the Civil War, and the christening cup of President George Washington from the Museum's nationally acclaimed Loeblein Gallery of Charleston Silver.
Among the most remarkable pieces featured in Sterling Faith are the communion tokens. Historically, silver tokens were reserved for white members of a congregation while African American received copper, tin, lead, or pewter tokens. These coin-like objects served to identify persons who were properly prepared to receive the sacrament during the week before it was celebrated. Charleston's First (Scots) Presbyterian Church possessed 500 pewter and between 200 and 300 silver tokens prior to the Civil War.
Another exhibit highlight is the chalice of St. Thomas. One of only four documented pieces attributed to colonial South Carolina silversmith Miles Brewton, the chalice was commissioned for St. Thomas parish around 1711. It is also considered to be one of the oldest surviving pieces of southern-made silver.
Several programs will be held in conjunction with Sterling Faith. The exhibit opening reception is Tuesday, June 15th and is open to the public. To order tickets, call (843) 722-2996 ext. 264. Curator-led tours of Sterling Faith, free with general admission, will be available the second and fourth Wednesday of each month at 10:30 a.m. The Charleston Museum Institute will offer a Sterling Faith Silver Symposium the weekend of October 15-17, 2004. For more information, call (843) 722-2996 ext. 235.
The Charleston Museum, founded in 1773, is America's first museum. It is a 501(c)(3) nonprofit organization. Holding the most extensive collection of South Carolina cultural and scientific collections in the nation, it also owns two National Historic Landmark houses, the Heyward-Washington House (1772) and the Joseph Manigault House (1803), as well as the Dill Sanctuary, a 580-acre wildlife preserve. Museum hours are Monday-Saturday 9 a.m. to 5:00 p.m. and Sunday 1-5 p.m. Museum admission is $9 for adults and $4 for children.
Digital images available upon request
All press releases are available online in the "Press Room" at www.charlestonmuseum.org
| | |
| --- | --- |
| Silversmith Alan Place ­ Lecture at the DeCordova Museum School, Lincoln, MA | Sunday, February 22, 2004 at 3 pm |
Admission is free and reservations are required. Please call 781/259-0505 to book your tickets for the lecture.
Internationally renowned Scottish silversmith Alan Place will hold a lecture on his craft on Sunday, February 22 at 3 pm at the DeCordova Museum School. Entitled Tears of the Moon: One Man's Journey in the World of Silversmithing, the reference owes its origin to the Peruvian Incas, who called gold "sweat of the sun"² and silver "tears of the moon."
Mr. Place will provide a historical overview of the practice of silversmithing in social culture, with particular attention to the impact that the trade exercised on banking, production of coinage, and pawnbroking. Mr. Place will also address the history of goldsmiths and their role during the British Civil War (Cromwell/Charles I). Of equal interest will be his discussion of how his designs, commissions, and final products have come about, as well as the nature of the commissions he has executed. Key pieces include:
* Twickenham Plate (38-piece banqueting servicefor the Richmond/Twickenham Local Council)
* Rose bowl for the Queen Mother
* Badge of Office for Leslie & Fife(Scotland)
* Chalice, Liverpool Cathedral
* Select pieces for Old Newbury Crafters,hollowware makers and flatware designers
Tears of the Moon: One Man's Journey in the World of Silversmithing will include slides of approximately 80 widely varied pieces of Mr. Place's work. This talk will be of interest to silversmiths, jewelers, fine art silver collectors (historic and contemporary), as well as those with an interest in the role of the artisan in the late twentieth century.
Mr. Place's career training includes degrees from the Glasgow College of Art, Royal College of Art, and Leeds and Sheffield College of Art; studies with Master Silversmith Alan Fisher; an apprenticeship with Fisher & Wrenwick Silversmiths; and coveted certification for the City & Guild of London exams for silversmIths.
Alan Place lives in Newburyport, Massachusetts, where he maintains a silversmithing studio. He is currently a visiting artist in the DeCordova Museum School Jewelry/Silversmithing program. This lecture is underwritten through the DeCordova Annual Benefit's Visiting Artist Fund.
Admission is free and reservations are required. Please call 781/259-0505 to book your tickets for the lecture on Sunday, February 22 lecture at 3 pm. 55 Sandy Pond Road, Lincoln, MA.
| | |
| --- | --- |
| Sterling Modernities: International and American Silver from the Arts and Crafts Movement to the Present | March 14-16, 2002 |
This conference considers silver objects produced in modernist styles and explores Euro-American crosscurrents and other influences. Increasingly studied, exhibited, collected, and valued, silver objects produced in modernist styles are rising in popularity.
Beginning in the 1880s with the Arts and Crafts movement that originated in England and Scotland and exploring its continental manifestations as well, we consider design movements that have evolved and continue to develop today. We examine the stylistic eclecticism and other expressions of modernity that sprang into being simul-taneously. We discuss art nouveau and art deco as expressed both in America and throughout Europe. These and other modern movements that spread throughout the continent were due, in large part, to the interaction between designers and firms, craftsmen who trained and worked in different locations, and to exhibitions and publications. Among those who produced silver expressive of these modern tendencies are Puiforcat (France), Hoffmann (Austria), Tostrup (Norway), Jensen (Denmark), and Erik Magnussen and Reed & Barton (United States).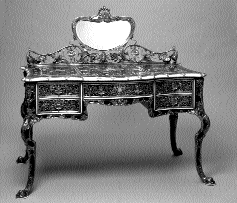 Moving forward in time, we consider the emergence of the university studio-trained metalsmith. Catalyzed by Margret Craver, a group of silversmiths - Alma Eikerman, Earl Pardon, Thomas Markuson, Hans Christensen, Fred Fenster, and Frederick Miller - attended summer workshops held under the auspices of Handy & Harmon at the Rhode Island School of Design and Rochester Institute of Technology. They then became the first generation to teach in American universities.
In the 1950s, craftsmen and industry worked together. Arthur J. Pulos, John Prip, Ronald Pearson, and Earl Pardon designed the prototypes for a number of tabletop objects and flatware patterns still in production today by Reed & Barton, Towle silversmiths, and Old Newbury Crafters. These relationships were shortlived and with the exception of Pulos, each returned to the freedom of his own studio and a commitment to teaching.
We conclude with an examination of those whom they, in turn, mentored, many of whom are still working today and chairing major departments at American universities, such as Helen Shirk, Robert Ebendorf, Jamie Bennett, Randy Long, and John Marshall.
We are grateful for support received from the American Craft Museum, Tiffany & Co., and Silver Magazine.
Please click for more information on: Conference Schedule, Presenters, Registration
Magnificent, Marvelous Martelé
American Art Nouveau Silver
The Jolie and Robert Shelton Collection

November 10, 2001-January 13, 2002
The Martelé line of hand-wrought silver in the Art Nouveau style by the Gorham Manufacturing Company is justly regarded as a major expression of that style on this side of the Atlantic. Officially introduced at the influential Paris Exposition Universelle in 1900, Martelé silver was awarded a Grand Prix and many gold medals. The name comes from the French verb meaning "to hammer."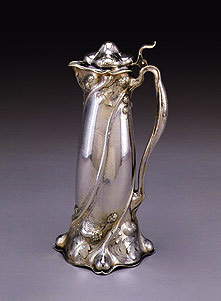 Loving Cup, 1900
George Sauthof, Chaser
Gorham Manufacturing Company
Sterling silver
The excitement created by the new artistic line of Martelé silver at the Paris exposition will be rekindled by this première exhibition of more than 300 works from the collection of Jolie and Robert Shelton of Lafayette, Louisiana. MAGNIFICENT, MARVELOUS MARTELÉ at the New Orleans Museum of Art is the first time that the Shelton's extraordinary collection has been on public view. It includes nearly every form in the Martelé line, including tea and coffee services, vases, punchbowls, candelabra, pitchers, platters, and centerpieces. Mr. & Mrs. Shelton acquired their first piece of Martelé, a silver water pitcher, at a New Orleans auction in 1995. That initial attraction proved to be the spark igniting a passion for these beautifully designedand superbly crafted objects.
Martelé silver probably would never have come into existence without the influence and vision of two men: Gorham's chief executive Edward Holbrook [1849-1910] and the firm's chief designer, William Christmas Codman [1839-1921]. Codman gained lasting recognition for his design of Gorham's Chantilly" pattern flatware, introduced in 1895 and arguably the single most popular American sterling flatware pattern to date, having remained in production for 106 years.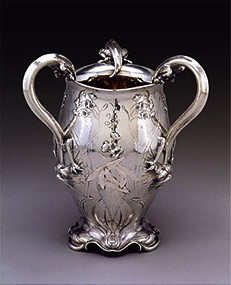 Flagon, 1898
Otto Colmetz, Chaser
Gorham Manufacturing Company
Sterling silver
The high style and advanced design of Martelé silver were acclaimed during The Gilded Age at the turn of the century. The sinuous whiplash curves and undulating outlines of the Art Nouveau style appealed to such collectors as publisher William Randolph Hearst, oil tycoon Harry Ford Sinclair, and cosmetics empress Helena Rubenstein.
A fully illustrated catalogue of MAGNIFICENT, MARVELOUS MARTELÉ with essays by leading Martelé authority and Gorham archivist Samuel J. Hough and John W. Keefe, The RosaMary Foundation Curator of The Decorative Arts at NOMA, will be available in the Museum Shop. The exhibition will travel to several other museums, beginning with The Columbus Museum in Columbus, Georgia, February 3 through April 28, 2002.
New Orleans Museum of Art: 504/488-2631