© Cynthia Eid: "Veins II" Seder Plate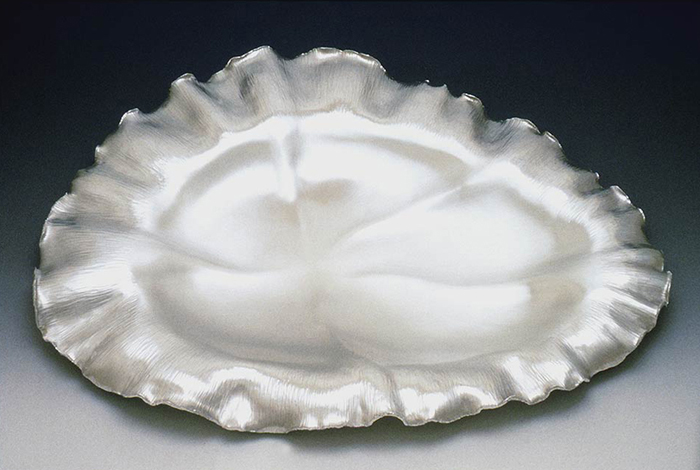 Cynthia describes her creation: The Seder plate holds symbolic foods at the Jewish Seder, a traditional meal during Passover. Hammered from a single sheet of 18-gauge (.040") sterling, this piece was made for a design competition sponsored by the Spertus Institute in Chicago, Illinois. After texturing the rim with a cross-peen hammer, I started sinking (hammering metal sheet into a hollow form) the interior. The rim was formed primarily over wooden stakes I'd made. After planishing the interior over steel stakes, I filled it with Protoplast, which supported the silver while the "veins" were chased in. Protoplast is a reusable plastic which melts in hot water. Though it lacks the flexibility of pitch, it's easier to get pieces in and out.
I continued to refine the form of the rim and upset the edge with a sharp hammer (checking). The interior was stoned, sanded, and lightly polished; the linear marks emphasize the form and lead into the rim's polished hammer texture.
The forms of several symbols of Passover are incorporated into this design. The shape is similar to the egg, or betzah. The ridges that define the areas for the traditional foods—haroset (apples, almonds, and wine), maror (bitter herbs), zeroah (shank bone), karpas (parsley), and betzah—remind one of the veins of the karpas. The textured, undulating rim refers to the forms of parsley and lettuce. Thus, the symbols of new life and spring are emphasized. The sections nestle together like those of a seed—the source of a new beginning—as Passover commemorates the dawning of a new life of freedom for Jews. Photo: Eid
Sterling
13"l x 10"w x 1"d
Date Created: 1996
$8,900
Inquiries: 800/339-0417 or E-mail