---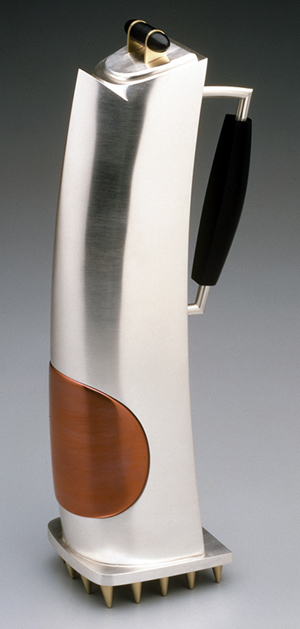 4/29/2017: Thomas Muir's "Cycladic Figure Impregnated," a serving vessel I made in 1987, was purchased by the Toledo Museum of Art in 2017. This is the second in a series of works I made between the mid 1980's and 1990's. The first in the series, "Cycladic Figure with his hair in a roller," is in the Art Institute of Chicago. The hollowware vessel, across cultures, is a fundamental vehicle for functional as well as aesthetic exploration. Historically, and in my own interpretation of it, it can represent the body and life; its emphasis is on the interior and speaks of containment, shelter, and nourishment. The vessel is one of the most basic, ancient, and accessible artistic forms. All of the things that sustain, enrich, and celebrate life can be encapsulated in the vessel: it evokes the womb, the seed, cooking and food storage, human dwellings, and the like. Metaphorically, the vessel addresses issues of renewal, transformation, and growth, as well as social, psychological, and ecological concerns. Throughout my work, an intimate knowledge of natural history supports my visible mechanics; this symbiosis is vital to my conception of hollowware. My interpretation of the Cycladic figures is both playfully anthropomorphic and evocative of nature's "engineering" through the stylized elements of womb and teats (that serve as the base). Additionally, the sacred quality of the figures is transposed into affectionate reverence for the living vessel that is the body. These works were based on Cycladic figures in the Indiana University Art Museum and the Metropolitan Museum of Art; they are included in the first series of works for which I used a direct reference to historical artworks. For my artistic practice, these works are the most challenging and rewarding in the simultaneous integration and successful resolution of key factors: the history of art, the history of craft and metalsmithing, my aesthetic concerns, utility, engineering, and my sense of humor.
SAS Artisan Dorothy Gordon passed away at the age of 97 on Thursday, August 25, 2016. Additional information will be made available as it comes in. If you have remembrances of Dorothy, please feel free to send them from the Artisan Memorial page located here.
SAS Artisan Raychel Wengenroth is opening a studio to teach silversmithing and jewelry making. This is her Web site for Hudson Valley Silverworks.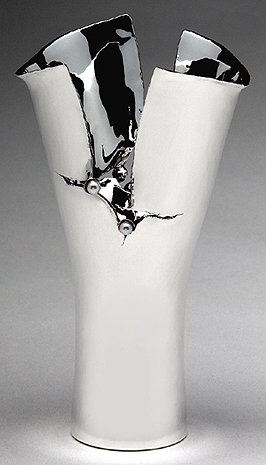 11/20/2015: Jeff Herman's "Vase with Pearls" was just purchased by the Yale University Art Gallery for their permanent collection. Created in 1995, this 5" tall x 3" diameter sterling vase with 5 cultured pearls was raised from a rectangular sheet of sterling, allowing stress cracks to develop as a design element. The top and side edges are hammer "checked" for thickening and sparkle. Photo: Bill Hicks
11/13/2015: Kaminer Haislip has a variety of silver hollowware and jewelry included in the contemporary gallery of the exhibition "An Eye for Opulence: Charleston through the Lens of the Rivers Collection." The exhibition runs from November 21 - January 10, 2016, at The Society of the Four Arts in Palm Beach, FL.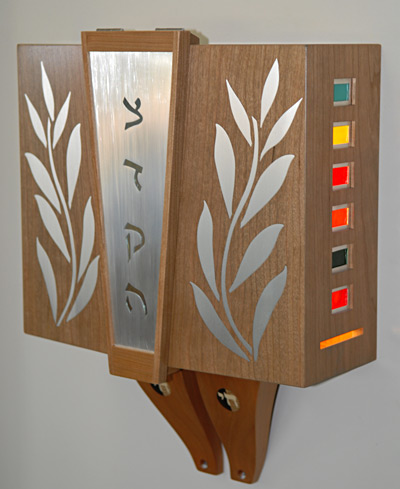 11/11/2015: Commemorating Rabbi George Guttkeman's 18 years of service and leadership at Congregation Shomrei Torah, Santa Rosa, CA, Linda Weiss created this Tzedakah box. It is made of Argentium cherry, sycamore, ebony, and art glass. Its dimensions are 18" tall x 6" deep x 14" wide. Linda designed the box and did all the silver work, R & D, and hired furniture and glass artisans for those respective components. The art glass is Illuminated from interior of box by LED lights. Donation slots on top and on the side (the side slot is accessible to people who are shorter or in wheelchairs). Donations are retrieved by raising the center front panel, which is hinged and lockable.
9/22/2015: The National Ornamental Metal Museum, Memphis will showcase the work of Linda Threadgill (right - COPSE, 958 silver, bronze and silver-plate, 13" x 18" x 18", 2015) as Master Metalsmith 2015. The exhibition, which opened September 18 and runs through December 6, is a retrospective display of sculpture, hollowware and jewelry focusing on her most recent silversmithing work. A 68-page full-color catalog is available. The Artist's Gallery Lecture will take place on Saturday, September 26 during the Museum's Annual Repair Days and Auction event (September 24-27).
9/21/2015: Kaminer Haislip is a Finalist for the Martha Stewart American Made Award in the Design category! American Made spotlights the maker, supports the local, and celebrates the handmade. The program is made up of people and communities that have turned their passion for quality craftsmanship and well-designed goods into a way of life.
Voting for the American Made Audience Choice Award is now open and Kaminer needs your help to win! Please vote to help her win! ou can click on the link below to view her Profile and vote by clicking on the green "VOTE" button on her profile page.
The Audience Choice Award and American Made Editor's Award Winners in each category chosen by the judges will be announced October 23!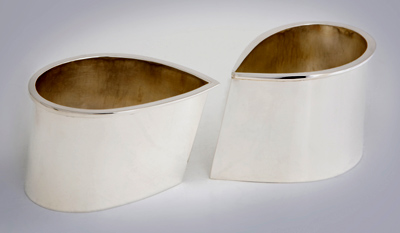 Kaminer Haislip (left) has a selection of her handcrafted, silver vessels included in the Holloware exhibition at the Metal Museum in Memphis, Tennessee. The exhibition will be on display from July 31 - November 15, 2015, in the Metal Museum Store Gallery.
The Metal Museum is the only institution in the United States devoted exclusively to the advancement of the art and craft of fine metalwork. This is achieved through exhibitions, collections, conservation, restoration and consulting services, classes, internship opportunities, artist residencies and apprenticeships, research and onsite fabrication of artwork and architectural elements.
9/14/2015: The Metal Museum, Memphis, will showcase the work of Artisan Linda Threadgill as "Master Metalsmith 2015." The exhibition, which opens on September 18 and runs through December 6, will be a retrospective display of sculpture, hollowware and jewelry focusing on her most recent silversmithing work. A 68-page full-color catalog is available. The Artist's Gallery Lecture will take place on Saturday, September 26 during the Museum's Annual Repair Days and Auction event (September 24-27).
4/24/2015: NEW SAS Benefit!
Potter USA is a manufacturer of steel silversmithing T-stakes, mushroom stakes, and miscellaneous forming tools for the professional silversmith. Members will receive 25% off the listed price of all the stakes on their web site. To place your order, check your membership status prior to calling them.
1934 E 18th St., Tucson, AZ 85719, 520/777-6032, 520/405-8539,
, Web site
Don't forget to check your membership status here before ordering.
3/27/2015: NEW SAS Benefit!
SC Studios provides meticulously hand made metalsmithing tools and supplies. These include chasing tools, pitch, hammers, snarling irons, and stakes, all hand made in the USA by Saign Charlestein. Visit their Web site and enter coupon code SAS at checkout to receive 10% off your entire order.
SC Studios LLC, Tacoma, WA 98406, 818/634-2304,
, Web site
3/10/2015: Raychel Wengenroth has a solo retrospective exhibition at Peters Valley, the place where she took her first jewelry class in 1975. Now, 40 years later, she is telling her story in the place where she "caught the bug." There is a catalog available online at Petersvalley.org for those who can't make the reception. Closing reception is Saturday, March 28th from 3-5 with an artist's talk at 3:30.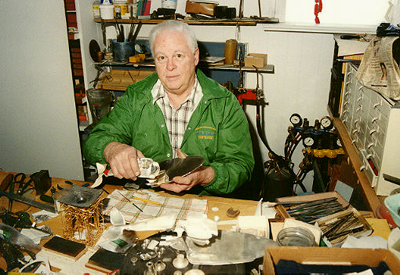 12/4/2014: A Genius Passes
It is a very sad day for the world of silversmithing. Artisan Harold Schremmer, arguably the most inventive and creative silversmith of his time, passed away at 10:12am EST at the Rhode Island Veterans Home. Jeff Herman was at his bedside. Information about Hal's life can be found here with additional commentary forthcoming.
11/19/2014: SAS Founder Elected Fellow of the IPG: Jeffrey Herman is excited and honored to announce that he was just elected into the prestigious Fellow category of the Institute of Professional Goldsmiths in England. He's the only Fellow living outside England. Herman was nominated by three other Fellows of the IPG, and humbled that these Fellows felt him worthy of this honor. "This is my 30th year in business operating as a silversmith specializing in restoration, conservation, and preservation, and 25th year as the Founder of the Society of American Silversmiths (SAS). It's a wonderful feeling to be recognized for one's accomplishments."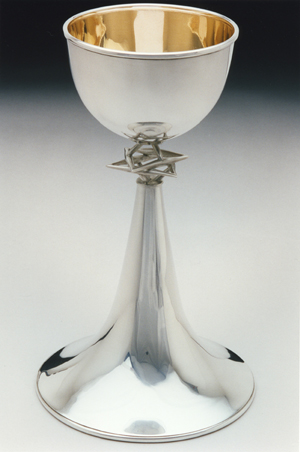 11/10/2014: SAS Welcomes its Newest Artisan Member! This is an example of Paula Newman Pollachek's work. It's her sterling "Floating Star" Kiddush cup. You can see more of Paula's silversmithing here.

4/1/2014: SAS Turns 25! April marks the 25th (silver) anniversary of the founding of the Society of American Silversmiths. I would like to thank all of you who have supported us and hope you have benefited from the information provided on this site. You'll be seeing some changes here very soon.
Should you have suggestions or comments regarding the Society's next 25 years, please feel free to contact me. And of course I'm always available to Members with answers to questions that can't be found on the site.
SAS will continue its commitment to assist those students who have a strong interest in becoming silver artisans. With the aid of the Society and its many supplier discounts, students will be better prepared to start their lives as professional silversmiths upon graduation. Jeff Herman, Founder & Executive Director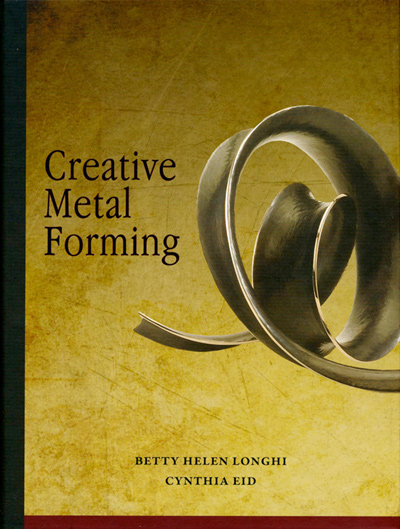 1/7/2014: A Must Have for Every Jeweler and Metalsmith!
Authored by Betty Helen Longhi and SAS Artisan Cynthia Eid, this 256 page book includes over 700 photos, and covers a huge swath, from a basic dapped disc through synclasting, anticlasting, spiculums, and raising a vessel. Thirty-five detailed exercises explain the basics, as well as advanced nuances for each technique.
For more information and to purchase your own book inscribed to you by one of the authors, go to creativemetalforming.com and click on Buy. Allcraft (a SAS Member Discount Supplier) also has the book, as well as the anticlastic stakes and hammers for synclasting and anticlasting designed by the authors. 800/645-7124,
, allcraftusa.com
1/3/2014: New Tool Discounter for SAS Members!
NC Black Company
831 East Country Club Rd.
Mount Airy, NC 27030
336/719-0774
ncblackcompany@gmail.com
http://www.ncblack.com
NC Black offers hammers, stakes, and forming blocks for Micro metalsmithing, shell forming, and raising. Use discount code SAS10 for 10% off your entire order.
12/17/2013: Tom Muir on MetalSmith BenchTalk Radio!
From Jay Whaley: My Guest this Thursday, December 5 at 3 p.m. PST on MetalSmith BenchTalk is Tom Muir, Distinguished Research Professor at Bowling Green State University, where he is head of the Jewelry and Metalsmithing area in the School of Art.
More Info: Tom Muir received his MFA from Indiana University, Bloomington, and his BFA degree from Georgia State University in Atlanta. Mr. Muir has lectured and taught widely, holding positions at universities and craft schools around the country. His award-winning work has been published and exhibited extensively in art, craft and design exhibitions, in which he has received 10 best of show or first place awards.
Collections include the Art Institute of Chicago, Renwick Gallery of the National Museum of American Art, Smithsonian Institution and The White House Collection of American Crafts, National Museum of American Art, Smithsonian Institution.
He is the recipient of an Arts Midwest/National Endowment for the Arts Regional Artist Fellowship, Michigan Council for the Arts Fellowship, and numerous Ohio Arts Council Individual Artist Fellowship Awards. In 2009, Tom received the Outstanding Achievement Award from the Ohio Designer Craftsmen for having made a major contribution to craft in Ohio.
For more information on Tom and his work, visit http://personal.bgsu.edu/~tmuir/information.htm.
Listen to the talk below...
8/19/2013: J.M. Cohen Rare Books, one of our two book discounters, has changed their phone number to 845/255-0856. For information on all SAS discounters, please visit the Member Discount page.
7/27/2013: Munya Avigail Upin just completed two weeks of teaching a "beginning metals" at Penland, NC. It's been 27 years since Munya taught her last class and was thrilled to have the opportunity to share her knowledge, once again, with Penland students.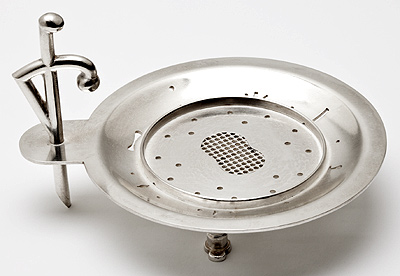 7/8/2013: Tom Muir's "Liquid Lexicon" tea strainer (2 5/8 x 4 x 3 3/8", Photo: Tim Thayer) will be featured in the Society of North American Goldsmiths second online exhibition, Contemporary Goldsmithing: Tradition and Excellence. The exhibition is scheduled to open in October 2013.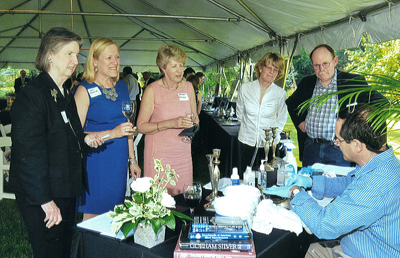 6/23/2013: On June 14th Jeff Herman attended a silver event in RI that benefitted the Barrington Preservation Society. From Jeff: "Burr Sebring, past head of the silver design department at Gorham, hosted the event which featured numerous pieces of Gorham silver. It was also a chance for the 100 people attending to meet Elizabeth Williams, the new curator of RISD's decorative arts department and expert on Gorham silver. I donated my time to demonstrate how to polish, display and store silver; offer my expertise in maker's mark and alloy identification; and fielded restoration questions. By the way, the lobster cakes, duck, and oysters more than compensated for my time there ;~)"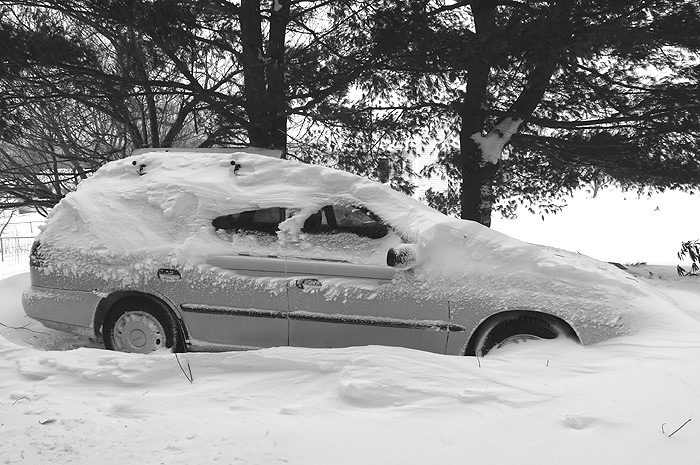 2/10/2013: From Jeff Herman – On Friday morning, I decided to go out before the big snow storm to get a full 300cf bottle of argon. The bottle I had was down to virtually nothing, and I knew I would be stuck inside, unable to go for a refill. As the snow fell on my way to the welding supply house, I noticed my car lights dimming and the windshield wipers slowing. I was almost to the store and decided to continue instead of returning home. Was it my new alternator? Was it my battery? I had no idea, so when I arrived at the supply store I kept my car running for fear that it wouldn't start if I had turned it off. I kept looking out from the store to confirm it was still running. The last time I looked, the lights were out. The store was going to close in another hour. I was stuck. I already had the new bottle in the back of the car. I was forced to call AAA. I didn't want a battery "jump" because I didn't know if I would make it home. Also, imagine your car dying in front of a snow plow? The driver put the car on his flatbed truck and took me home (about five miles away). I got the full bottle of argon (probably weighing over 200 pounds) from the back of my station wagon and wheeled it into the shop. Soon the wind picked up with the occasional 60mph gusts, and the heavy snow started to drop. My argon was safely home and I was able to resume welding.
1/16/2013: An Exciting Opportunity Awarded to Ruthie Cohen of the Mountain Metalsmiths School of Jewelry & Lapidary, Arden, NC.
Two years ago Ruthie Cohen and David Alberts attended the Stuller Bench Jewelers' Workshop in Lafayette, LA in order to check out the Orion Pulse 150i, designed to do welding like a laser, but at 25% of the cost. Ruthie brought a list of 33 tasks for the Orion to fulfill. It did them all including welding soda can pop tops together. It so exceeded their expectations, that she bought one. Many pieces of jewelry and two years later, Ruthie & David have been invited as guests of both Stuller Inc & the creators of the Orion to be DEMONSTRATORS at the upcoming 2013 Stuller Bench Jewelers Workshop! They will be putting the Orion through its paces so that the attendees can see how jewelers can fabricate designs as well as do repairs. Ruthie will be fabricating with some new silver alloys created by Stuller and United Precious Metals - Sterlium Plus Silver and Continuum Silver, a new alloy that combines the strength of Palladium with the color of sterling silver. Who knew that a little school started 7 years ago would now be represented at a major trade workshop teaching fellow jewelers.
11/16/2012: Kaminer Haislip was honored with the Made in the South Award in the Home category by Garden & Gun magazine! Click here for details. For the published article, check out the Dec 2012/Jan 2013 issue of Garden & Gun.
11/3/2012: New Member Benefit!
Silver Magazine is offering a 10% discount on their bi-monthly publication. The following rates are 10% off their normal rates: $36 (1 year), $63 (2 years), and $90 (3 years); Canadian rates: $45 (1 year), $81 (2 years), and $117 (3 years); International rates: $49.50 (1 year), $90 (2 years), and $130.50 (3 years). Higher rates include the foreign postage necessary.
The Magazine is published 6 times per year. To see some of the articles and advertisers in the magazine, please visit their website. To order, you may: 1) go to their website; 2) use PayPal and pay to their e-mail address (silvermag33480@gmail.com) being sure to mention the length of subscription and your mailing address; or 3) mail your payment - please remit your check to Silver Magazine, PO Box 2284, Palm Beach, FL 33480, 561/655-7693, http://www.silvermag.com.
10/20/2012: Jeff Herman, in conjunction with Rhode Island School of Design's continuing education program, is giving a one-day course on "Exploring Silver with a Master Silversmith." This unique class, which runs from 9am-3pm, November 11, 2012, will benefit both appraisers and collectors of silver. It provides a rare opportunity to work with and learn from a nationally known silversmith whose specialty for almost thirty years has been restoration and conservation. Meeting in the Herman Silver Studio in West Warwick, students learn to differentiate construction methods, decorating techniques and manufacturing processes. Hands-on examination of multiple pieces of silver helps students learn to identify sterling, coin, fused plate and electroplate. Silversmithing tools are shown and methods are reviewed for chasing, engraving and repousse work. Colonial methods of silversmithing are contrasted with contemporary methods. Students learn to distinguish between pieces that are hand raised, spun or fabricated. Restoration techniques are demonstrated and tips provided for client consultations involving silver preservation, storage and repair. Participants are encouraged to bring a few pieces of silver, in any condition, for commentary. In the afternoon students visit the silver room at the RISD Museum's Pendleton House. Note: Class meets at an off-campus location; directions are sent to registered participants.
The location of the Herman Silver Studio has changed since the publication of the Fall 2012 catalog; students will meet at the studio in West Warwick.
Course Number: 2012/CF-APRL-3047-01
Course total: $295.00
RISD's continuing education page can be found here.
7/26/2012: New SAS Discounter!
Sep Tools is offering a 5% discount on all PUK-related products including Lampert's new PUK04 pulse arc welder (see Jeff Herman's review here). To take advantage of the discount, SAS members should contact Gabby Sepiashvili, Sep Jewelry Tools of Chicago, 5 South Wabash Ave, #514, Chicago, IL 60603 312/541-4554, Fax: 312/541-1944, Web site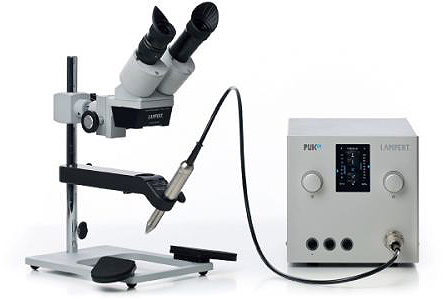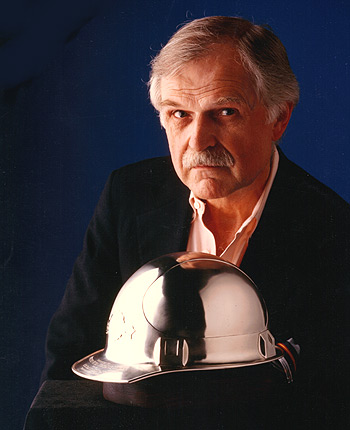 5/25/2012: A memorial service for Bill Frederick will be held on Friday, July 13, from 5pm to 7pm at The Arts Club of Chicago, 201 E. Ontario St., Chicago, IL 60611, 312/787-3997
All who knew Bill and who would like to pay tribute to him are welcome to attend.
A memorial fund has been established for The Paul's Foundation, 3260 N. Lake Shore Dr., Suite 12A, Chicago, IL 60657.
Any questions you may have about the memorial or the estate can be directed to one of the trustees: George Schneider, 3078 W Palmer Blvd., Chicago, Illinois 60647, 773/252-8954
5/11/2012: Please take a moment and remember our one of our finest silversmiths – Bill Frederick – who died today at age 90. He was silversmithing right up until a few months before passing.
An obituary will soon appear on the Artisan Memorial page. If you have remembrances, please e-mail them to sas@silversmithing.com.
4/18/2012: Munya Upin and partner Kirsten Ball are opening an exciting new gallery in Belmont, Massachusetts: Alchemy 925.
4/7/2012: Jeff Herman's latest newsletter was just e-mailed. If you're a silver lover, then you'll enjoy reading this free newsletter on the care of silver, silversmithing techniques, upcoming exhibitions, silver history, before & after images of objects I've restored, and other silver-related topics. And don't worry, you won't be deluged with daily e-mails and you can opt-out at any time. Sign-up here.
11/12/2011: Jeff Herman (below) conducted a silver clinic today at Reliable Gold, 181 Wayland Avenue, Providence, RI. Herman offered silver restoration and conservation advice, demonstrated silver cleaning and polishing techniques, described how objects were created, and maker identification.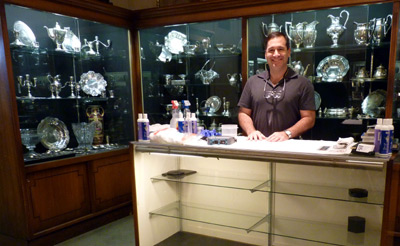 10/20/2011: From Kaminer Haislip: I will be exhibiting in the 35th Annual Philadelphia Museum of Art Craft Show Nov 9-13, 2011. Out of over 1200 applicants only 195 were selected, so it is a huge honor and I am very excited! To view details of the show, exhibiting artists, ticket, and location information please visit pmacraftshow.org.
By the end of October, I will be settled into a new studio at Redux Contemporary Art Center in downtown Charleston, SC. My current studio space will double and I am thrilled my studio practice is growing! Feel free to stop by and see me anytime during gallery hours. For info on Redux please go to reduxstudios.org.
Additionally, I will be exhibiting in the Architectural Digest Home Design Show MADE section in New York City March 22-25, 2012. The New York Times is a co-sponsor and this exhibition is also an incredible honor. I am very complimented to be included! To view details of the show, participants, ticket, and location information please visit archdigesthomeshow.com.
10/9/2011: Cynthia Eid will be giving a free artist talk at the MICA Jewelry Center, 3600 Clipper Mill Road, Baltimore, MD, October 14th, 2011, 7:00 - 8:00 p.m. For info or to sign up, contact MICA Continuing Studies Office, 410/225-2219, http://www.mica.edu.
Over the following two days (October 14th & 15th, 9:30 a.m. to 4:30 p.m.), Cynthia will be giving a workshop: Argentium Silver: Fusing, Granulation and Soldering...
Discover how to use this innovative new metal for your work with the guidance of renowned Argentium Silver specialist, Cynthia Eid. Argentium Sterling is an alloy that is at least 92.5% pure silver. This material does not firescale, is highly tarnish resistant, is more malleable and ductile than traditional sterling, fuses and welds more easily than traditional sterling, and can be hardened using a kitchen oven or kiln. During this course you will learn a variety of techniques including annealing, soldering, fusing, granulating, and hardening Argentium Sterling Silver sheet and wire. Following demonstrations, you will have time to make your own technical samples and/or finished work. This class is appropriate for students with basic metalsmithing skills as well as professionals. Cynthia Eid is an internationally recognized metalsmith who has been working with Argentium Silver alloys since the year 2000. She is the author of a technical guide to Argentium Sterling used by Rio Grande. Cynthia has won awards for creativity and design, exhibited and taught internationally, and her work is published extensively. Her articles about Argentium Silver have been published by the Society of North American Goldsmiths, in SNAG News, and in Art Jewelry Magazine. Cynthia Eid is one of only two instructors recommended by Argentium International and the Argentium Guild.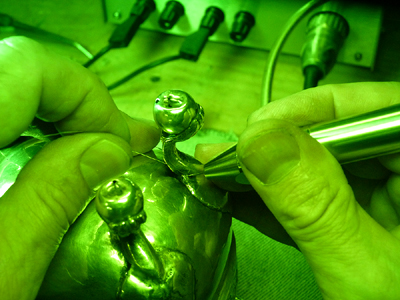 9/1/2011: From Jeff Herman: Many objects that come to me for repair can't be soldered. This is where another technology must be explored. I have been testing the German-made PUK 2 pulse arc welder (right) over the past few months. The green image is from photographing through the PUK 2 filter that shields the eyes from the arc flash.
I have tested laser welders from a few manufacturers, but found that laser compartments are too small for working on holloware, and the cost was prohibitive. I also tested a Mini Pulse III from Aelectronic Bonding, another type of arc welder, which didn't allow me to get into tight spaces.
Using the PUK 2, I have refined my technique to the point where I felt confident to upgrade to Lampert's PUK 3s Professional (below).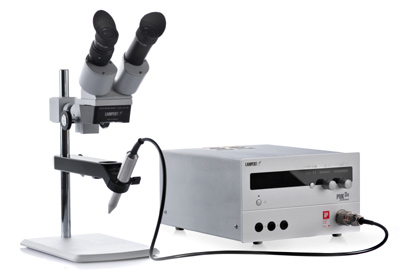 The machine, arriving shortly, is better equipped for welding silver (especially very thin silver) and is far more advanced than the PUK 2. The PUK 3s Professional is equipped with a 10x microscope and will be attached to pivoting boom-style arm (not illustrated) for welding larger pieces. I will eventually provide a comprehensive review in ShopTalk.
But for now, take a look at PUK 3s' informational brochure here. You can find some YouTube vides on its function here. To purchase a PUK (they make a few different models), contact Robert Sepiashvili, Lampert Tools USA, 67 East Madison, # 512, Chicago, IL 60603, 866/4PU-K111, Fax: 312/641-2678, info@lampertusa.com.
8/30/2011: Congratuations to Tom Muir! From Tahree Lane, staff writer for toledoBlade.com: It may well be that for the first time in its 93 years, the Toledo Area Artists' Exhibition has awarded Best of Show for a teapot.
Sterling silver, mind you, and priced at $35,000.
The apex of the local art scene, the TAA exhibition opened Friday at the Toledo Museum of Art with a total of $8,150 awarded to 20 of the 277 artists who entered this, the largest local contest. It's a smaller show than usual, with 66 pieces selected out of the pool of 757 submitted, but it's infused with new vigor because the museum has committed to run it, largely taking the reins from a group of volunteers.
Muir nabbed three prizes totalling $1,750 for his swan-necked Twin Risers. Its teapot suggests a torso set on a stair-step from which a cylinder rises. The tiny hinges for the compound-curved lid required five attempts to build. Muir, who loves tea implements, water, and birds, crafted the 14½-inch-tall sterling piece over two years while nursing severe tendonitis.
Muir heads jewelry and metalsmithing at Bowling Green State University and lives in Perrysburg. In 2009, he received the Lifetime Achievement Award from the Ohio Designer Craftsmen, and in 2008, he won first place in the TAA show for a piece named as only an artist or rock band could: Intimate Symmetry with Dog-Sucking Louse. It's a tea strainer, inspired by what Muir saw when he looked under a microscope at his veterinarian's office and viewed the lice that were feasting on his dogs.
His work is owned by the Smithsonian Institution, the White House Collection of American Crafts, the National Museum of American Art, and the Art Institute of Chicago. In 2005, he was named a distinguished professor of the arts at BGSU.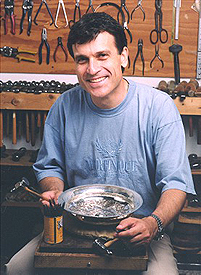 8/17/2011: Valentin Yotkov Receives FSG National Metalsmiths Hall of Fame Award 2011
From the Florida Society of Goldsmiths: The Florida Society of Goldsmiths is pleased to announce that the recipient of the 2011 FSG National Metalsmith's Hall of Fame award is Valentin Yotkov, who is honored in the Artist / Arts Educator category.
Yotkov is one of the world's leading experts in the ancient metal techniques of Chasing and Repousse. His training began during the early 1970's in his homeland of Bulgaria, where he apprenticed with some of the most accomplished masters of silversmithing. At the age of 22, he became the youngest member in the history of the National Silversmiths Guild of Bulgaria and was elected president only 3 years later. Mr. Yotkov has received numerous prestigious awards including two gold medals for highest artistic achievement in metalsmithing.
Currently he resides in Brooklyn, New York where he founded a studio in 1994. The Valentin Yotkov Studio is recognized as the only school in the country specializing in Chasing and Repousse. Mr. Yotkov has developed a unique teaching method which allows students to easily learn and understand the technique. More than 1,600 students, professional jewelers and metalsmiths from around the world have attended his classes; among them members of the Tiffany & Co.'s silverware department.
The Florida Society of Goldsmiths' National Metalsmith's Hall of Fame was established in 1999. It is located at The Morean Arts Center in St. Petersburg, Florida. Awards can be given in four categories: Artist, Arts Educator, Arts Patron and Business Patron. For more information or nomination forms for the year 2012, please contact: FSG National Metalsmith's Hall of Fame, 719 Central Avenue, St. Petersburg, FL 33701, Jean Marie DeSpiegler, Executive Director, 727/822-7872 x2128, Email: fsgjm@earthlink.net, www.FSG4U.com
8/14/2011: A memorial for John Fix, who died on July 21, will be held on August 27th at 10 am at the Broadmead,13801 York Rd., Cockeysville, MD 21030, just North of Shawan Rd. in the main auditorium. John became an Artisan member in 1992. Our deepest regrets go out to his family.
8/1/2011: Michael & Maureen Banner's holloware won a BEST IN SHOW honorarium in the DHM Digital Gallery, curated by Rick L. Bartholomew. You can see the pieces here. They recently exhibited at Silver Linings, a show at Chautauqua Institution, curated by Judy Barie. The Banner's silver is also being exhibited at Making it in Crafts: A National Invitational, curated by Jim Sondgeroth and Michael Atwell at the Art Museum of Greater Lafayette May - September 2011.
7/23/2011: Cynthia Eid just finished five days teaching Shell Forming (Anticlastic & Synclastic Forming) in Birmingham, England.
Wendy Yothers has been invited to make two teapots for the Teapot Biennale at the Craft Alliance in St. Louis. The show opens late autumn, I believe.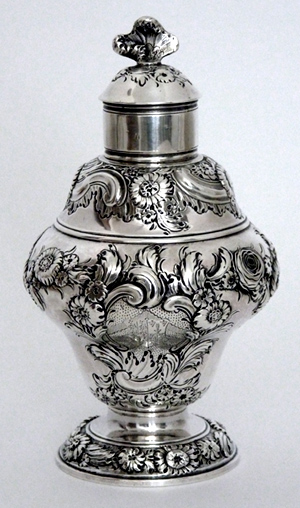 5/31/2011: From Jeff Herman: Made in London in 1748, this tea caddy, with its beautiful chasing and delicate heraldic engraving, is one of a pair that came to me for restoration. There were approximately 12 holes in each top (unbelievably, they had been made into salt & pepper shakers!). I welded the holes with a PUK2 arc welder using sterling wire for a perfect color match, and then rechased the areas repaired. I burnished out numerous body dents from the pair and removed corrosion from the "salt shaker." Finally, I repatinated and hand finished the tops and bodies of both caddies.
2/20/2011: Alfred (Alf) Ward just won a Winthrop University Medal of Honor in the Arts! Ward, a Winthrop University Professor of Art and Design and an internationally renowned goldsmith who created Winthrop University mace, among numerous other important commissions, designed and makes the Medals. Born in London, Ward studied silversmith at Canterbury College of Art and completed his National Diploma in Design at Birmingham University in 1963.
As a consultant designer to Spink & Sons in London, and by Appointment to Her Majesty the Queen, he designed many presentation pieces for The Royal Air Force, The Royal Family of Saudi Arabia, Revlon of Paris and individual awards for Margo Fontaine and the Covent Garden Opera House.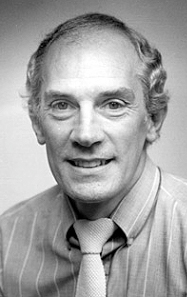 Since his arrival at Winthrop in 1989, among other commissions, Ward has designed and produced silverware for the American Crafts Council, ceremonial maces for the University of Tennessee, Coastal Carolina and designed brooch pins for the last 10 First Ladies of South Carolina.
Watch "A Medal For Alf."
Awards Ceremony and Performance
Friday, April 1, 2011
8 p.m. in Johnson Hall
For information please call: 803/323-4493
10/3/2010: Peter Erickson will appear on the TV show Chronicle, Thursday, Oct. 7. They have produced a show called "Made in Massachusetts" in which he will be one of about a half-dozen businesses or people they are featuring in 2-3 minute segments. Shayna Seymour from Chronicle, and her cameraman, spent about 2 1/2 hours at Peter's workshop in August. Peter states: "I don't know what the final piece looks like, but it was a lot of fun." The show is on WCVB Channel 5 in Boston starting at 7:30pm." If you miss the segment, you may find it here: http://www.thebostonchannel.com/chronicle/index.html
7/20/2010: Rocío Heredia's repoussé work and biography were featured in the section about Hispanic art within the chapter "Mexico: In Revolution in the XXI century" of the textbook ¡De una Vez!: A College Course for Spanish Speakers written by Francisco Rodríguez, Fabián Samaniego and Nelson Rojas, and published by Heinle Cengage Learning. Pages XIX, 297, 298. ISBN10: 0618348948. Rocío's piece to the left: "Saint George and the Dragon" (Dragon Series), 8" h x 6" w x .5" d; repoussé tin, patina, bees wax; photo by Keith Meiser.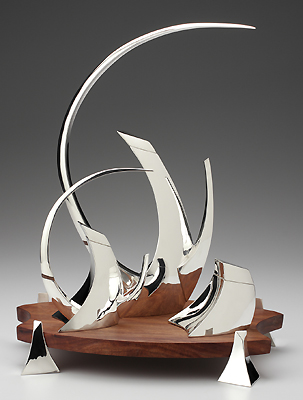 7/20/2010: Congratulations to Michael and Maureen Banner of Monterey, Massachusetts, who were recently recognized as the second place prize winners in the Holloware category of the 2010 Saul Bell Design Award competition. Both the designers and their piece, a tea service entitled "Spinnaker," were honored on June 5 in Las Vegas during JCK Las Vegas. The 2010 competition challenged jewelry designers to push the boundaries of creativity as they created original and innovative pieces in their choice of six categories. Each designer chose a category as the foundation of their piece and integrated additional stones or materials as they wished, provided that the predominant category material constituted at least 75% of the finished, original design.
6/1/2010: Tom Muir is one of 21 metalsmiths who will have works featured in the upcoming issue of SNAG Metalsmith's special annual Exhibition in Print. The theme of this issue, chosen by guest curator, Garth Clark, is Neo-Palatial: Objects of Virtue and Vice. The issue will showcase contemporary objets de virtue, extravagant works that challenge the limitation of technique, scale, and sometimes good taste. Designed to take center stage, this work is brash, exaggerated and virtuosic in their use of metals.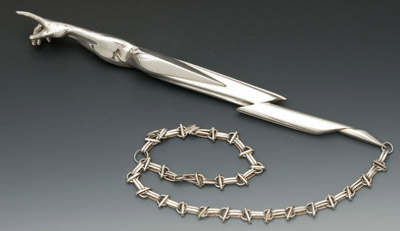 3/9/2010: Wendy Yother's yad is sculpted, cast chased and fabricated in sterling. It was made in 2009.
The teapots (below) were designed to illustrate a Russian Fairy tale about Babba Yagga--a terrible witch who dwelt in the forest in a house on chicken legs. Instead of a black cat as a familiar, she had an animated skeleton to do her bidding. The pots are her's for brewing light and dark spells. The glass shapes were designed by me and blown by George Kennard at the Corning Museum of Glass. I learned to engrave glass there, my mentors are Juri Harcuba and the wonderful Max Ehrlacher. The engraving on the dark pot is cameo engraving with diamond wheels. The engraving on the transparent piece I designed to resemble the steam rising from a hot cup of tea--and the figures one can imagine in the steam as it rises.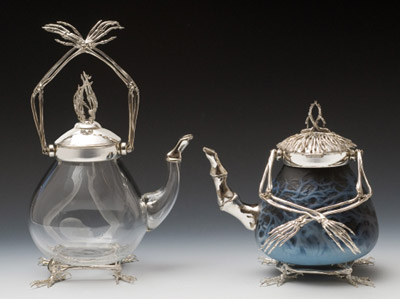 1/17/2010: John Marshall was commissioned by the Seattle Art Museum to design and create a silver coffee and tea service which he completed and delivered in October. To document this commission, the museum had their photographer video John over the period of its creation. You can see the video here.
12/18/2009: Artisan member Bill Frederick, who turns 87 today, also celebrates 50 years of silversmithing! Bill is very healthy and still producing at the bench, though, more selective as to the commissions he accepts. Happy birthday, Bill, you're an inspiration to us all!
11/21/2009: From Jeff Herman: Until recently I had been using a spray bottle to apply Gesswein's Dr. Frank's Fabulous Flux to protect against firestain. The problem was, when applying liquid flux with a sprayer, the large droplets would produce voids on the object's surface which would have to be resprayed. The flux would also build up a thickness that would occasionally bubble off solder pallions.
Recently, when visiting a local hobby shop, I noticed a number of airbrushes in their display case. For years I had contemplated using one as an applicator, but didn't want to spend the money. However, next to the professional airbrushes I saw a $28 Badger 250-4 airbrush with a four-ounce reservoir that I couldn't pass up – it was worth an experiment. I also purchased a $5 brass accessory that allowed me to connect the airbrush to my air compressor. I raced home, excited at the prospect that this inexpensive, elegant solution would solve my flux issues.
I found that the airbrush assists in depositing a finer, even layer of flux, and eliminating the bubbling that would normally occur if applied by brush or mist sprayer. There is also a volume adjustment. And the lack of bubbling flux keeps pallions in place. Also, since most liquid flux evaporates with this applicator almost immediately after applied to a torch-warmed object, there are no voids left on the surface to have to re-spray. This method puts flux just where you need it, reducing waste. The airbrush should work well with other liquid, non-flammable fluxes.
11/7/2009: From Jeff Herman: I have viewed numerous online videos demonstrating harmful silver polishing techniques. Do not trust everything you see online regarding silver care! Some of these videos, produced by well-intentioned but ill-informed individuals, show the use of horribly abrasive products such as Nevr-Dull, toothpaste, or baking soda. Some advocate the use of the toxic product Tarn-X which, although not abrasive, will remove factory-applied patinas, and will actually promote the formation of tarnish. The aluminum foil technique (in which the user is encouraged to soak silver in water containing baking soda and a piece of aluminum foil) will also allow tarnish to form more quickly. Also, many videos say that it's okay to put silver in your dishwasher–that's not true!
I have spent 25 years testing products and researching the subject of silver care. With proper care, your silver will remain beautiful for generations!
10/10/2009: Tom Muir received the Ohio Designer Craftsmen 2009 Award for Outstanding Achievement! See the presentation videos #1 and #2. Congratulations!
Michael & Maureen Banner together have been awarded a 2009 Artist Fellowship of the Massachusetts Cultural Council as finalist in Crafts. Find out more here. Congratulations!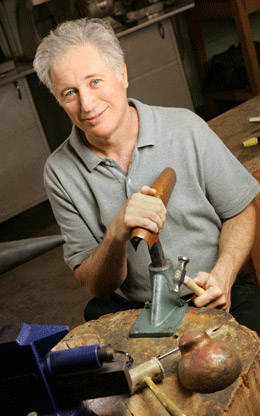 5/27/2009: Tom Muir Honored for Mastery of Metals
"Masterful Metalsmiths," "The Art of Gold," "Innovative Tools for Personal Use"—The titles of exhibits in which Tom Muir, Distinguished Professor of the Arts, has been represented reveal a bit about the artist and his work. From jewelry to sculpture to teapots, his style elegantly and playfully blends functionality with aesthetic beauty.
Shown all over the world and written about in numerous publications, Muir's exquisite creations in silver and gold, and his revival of the art of hollowware, have earned him applause and honors over the years. Now the Ohio Designer Craftsmen have presented him the Outstanding Achievement Award for a lifetime of work. The award was bestowed May 3 at the Ohio Craft Museum in Columbus, during the opening reception of the national competition, "The Best of 2009."
Since 1976, the achievement award has been given to individuals and organizations to honor their successes in their fields. It also recognizes the work they have done for the craft field, and their effectiveness in helping others to do well in their careers.
Past recipients include Dominick Labino, the Columbus Museum of Art, Erie Sauder and Don Drumm (creator of the Jerome Library exterior murals). "Tom is one of the very best in the country," said craft museum Director Betty Talbott. ""He has been in the show every year since the very beginning, and he's won a number of awards."
Muir is head of the jewelry and metalsmithing area in the School of Art. He furthers his educational mission with frequent lectures on art history and workshops on the craft of metalsmithing.
"His artistry dovetails seamlessly with his teaching to create a masterful environment for creativity and learning. Tom's students have gone on to important graduate programs in jewelry and metals and highly successful careers as artists–and chocolatiers! His restless imagination and quirky sense of humor make working with Tom an endless process of discovery and surprise. He is truly unique," said School of Art Director Dr. Katerina Rüedi Ray.
4/13/2009: Fred Zweig will be teaching a class on basic tool making and hands-on instruction on pitch bowl repousse with a raising demo at the end of the class.
Date: June 12-15
Cost: $500. plus supplies with a minimum of 10 students, $250. down payment to hold and non refundable after June 1
Location: Craig May's shop in Pine Junction, Colorado
Contact: Craig May, 303/838-2619 after 6:00 pm or e-mail at drgnfrgltd@aol.com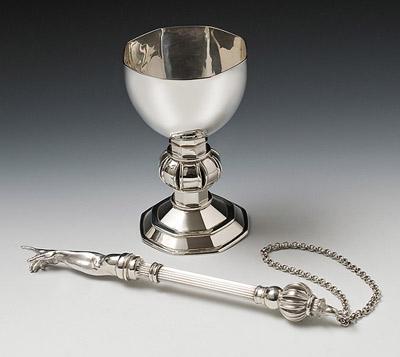 3/24/2009: From Wendy Yothers: Here is a Kiddush cup and Torah pointer (Yad) I just finished. Sterling, chased, modeled, fabricated.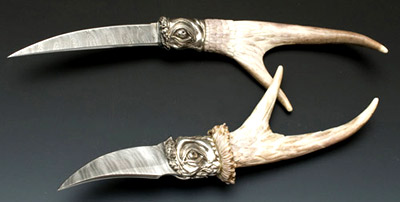 2/4/2009: From Wendy Yothers: These knives have sterling bolsters that are cast and chased, the blades are handmade Damascus, and the handles are hand carved white tail deer antler.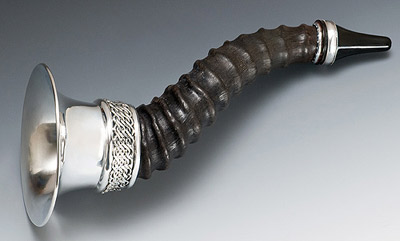 1/13/2009: From Wendy Yothers: Here's an image of a hearing trumpet I just made for a hearing-impaired friend/client. The horn is springbok, rescued from a discarded trophy in a NYC dumpster. The earpiece is part of a bakelite hearing aide from the Detroit Artificial Ear Drum Company, 1908. The ornament is bits of silver wire from my bench. It works!
1/10/2009: Cynthia Eid will be teaching a class at Metalwerx this winter, calling it "Bowls, Bowls, Bowls." She is putting together a (powerpoint) "slide show" of images of bowls to show the students. The intent is to show the range of possibilities, and to inspire them to create interesting new bowl designs.
Please consider sending her images of bowls by you or your students or friends---digital or slides, via email or snail mail. Cynthia says you can be sure that you will get credit, and your name will be on the image. She would be glad to do this as a trade, and send images in return, to those of you who teach! Email: ceid@cynthiaeid.com, snail mail: Cynthia Eid: PO Box 750007, Arlington Heights, MA 02475
1/1/2009: Jeff Herman: I asked Alf Ward if he had known the famous London Silversmith Gerald Benny who died in June of 2008. His reply:
Yes I knew Gerald Benny very well. We became good friends over the years and when he died I wrote a short obituary to The Times in London. Gerald was related to Graham Hughes who, for many years, was curator at the Goldsmiths Hall. They were both external examiners for the Hall and often came to Sir John Cass to assist me with the student examinations in jewelry, silversmithing and all the allied crafts. I employed all of Gerald's workshop craftsmen as part-time teachers at Cass - people like Dave Murray and Brian Fuller. After Gerald moved to Beenham near Reading, Brian Fuller ( one of his top silversmiths ) carried on in London with the same spinners, smiths, and box-makers for a while. I often visited Gerald at his "country" house when he relocated his workshop there - and that is where he produced all the enameled pieces.......it was a beautiful setting and incredible studio.
He was a most unassuming and generous man. Each year he gave both individual and group money awards in each category of the dept. He also gave space to our apprentices and degree students on industrial practice.
As I said earlier, Gerald and Graham were cousins. On one occasion - when they both came to the Cass as external examiners - I put Gerald with the silversmithing teachers and Graham with the jewelry guys. Graham had given Gerald a gold pen for Christmas and Gerald was using it that day. During the morning Graham got into an argument with Bernard Kidd (head of jewelry ) about a grade. So he called Gerald over and said, "Gerald, Bernard is say that this is a "C" and I think it's an "A" - what do you think?" Gerald holds the piece for a while and says, "No! This is definitely a "C" Graham."
Whereupon Graham replies, "Are you disagreeing with me Gerald!?" Gerald says, "Yes!" Then Graham grabbed Gerald's gold pen and says,"Well! Give me my pen back then!" Graham returned it to Gerald at the end of the exam period.
I never met Brian Asquith because it seemed like everyone in the trade was either in London, Birmingham, or Sheffield - and they rarely mixed. Brian did have a show at the Hall in the early 90's I believe.
12/14/2008: Wendy Yothers tells us about this letter opener: Working in New York has emerged as architecture in my work. This piece was commissioned by an artist who wanted something elegant her husband would use every day, hence the letter opener. The steel is hand made damascus, the bolster is old time religion silversmithing. The horn is white tailed deer antler.



11/15/2008: Valentin Yotkov invites you on a trip to his native Bulgaria. Immerse yourself in rich history and tradition and fall in love with a small country, little-known to the Western world. Admire glorious gold and silver treasures, watch Masters demonstrate their centuries old techniques, meet internationally acclaimed artists and marvel at nature sites of breathtaking beauty. Discover Bulgaria with Bulgarian born and trained master silversmith Valentin Yotkov. Dates: June 25 - July 5, 2009. For information and registration e-mail: studio@valentinyotkov.com or call 718/852-8640. Visit this Web site to view pictures from previous trips.
10/2/2008: Fred Zweig is teaching a surface embelishment workshop at the City of Tucson Parks & Recreation Facility at Randolph Park in Tucson, Arizona. We will cover the making of steel tools for texturing, reverse imprinting, LMD Localized Metal Deformation, rivets as decoration, roller printing and the used of chisels. Each student will make several examples of the textures for use as reference and will walk away with a sheet for storing in their "Metal Dictionary." Anyone interested can register at http://ezeereg.com/Activities/ActivitiesDetails.asp?ProcessWait=N&aid=1738
9/15/2008: Cynthia Eid will be conducting a workshop: Creatively Moving Metal With the Hydraulic Press, Oct. 24-26, 2008, Craftsmen's Guild of Mississippi, 950 Rice Rd, Ridgeland, MS 39157. Work with the largest "hammer" in the shop! Learn how to use the hydraulic press and explore design and form possibilities. The workshop will begin with hydraulic press safety and care. Learn about and understand how to take advantage of the various thicknesses and durometers of urethane for effective and creative embossing and die forming. Make and use embossing and silhouette dies. Use 3" deep draw tools to form metal--- 3" discs can become small vessels, lidded containers, or seamless tubes to slice and form finger rings. Learn about split matrix dies and how a reversible silhouette die can make matching halves can be soldered together to create hollow forms for jewelry and hollowware. Become familiar with forming using Bonny Doon synclastic, anticlastic, and free form tools, as well as form boxes and contained urethanes. Hydraulic press forming can be combined with surface enrichment techniques for limitless possibilities! This workshop is appropriate for students with basic metalsmithing skills as well as professionals. For further information: ann@mscrafts.org or (601) 856-7546
8/20/2008: Robert Oppecker reports that two of his pieces are in the collections of Bette Midler and Jann Wenner (owner of Rolling Stone)!
6/17/2008: Fred Zweig will be teaching a weeklong workshop at the Idyllwild Art Academy. An exhibit of the work of the instructors will be held at the Parks Exhibition Center and I will be presenting six brooches for the show. View the programs here.
4/23/2008: From State University of New York (SUNY) New Paltz: We are delighted to announce that our Graduate Metal/Jewelry program has been ranked #1 in the nation in the recent 2009 U.S. News & World Report list of America's best graduate schools.
The Metals/Jewelry program ranked first in the nation in the Master of Fine Arts category and, overall, New Paltz's Master of Fine Arts program was named among the 100 best in America, according to U.S. News.
Please share in our congratulations to Professors Jamie Bennett and Myra Mimlitsch-Gray, Technician John Cogswell and the entire Fine Arts division!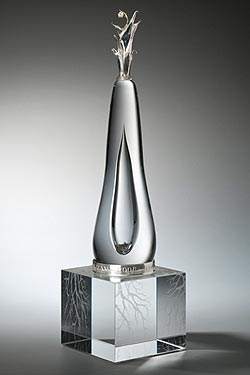 3/11/2008: Wendy Yothers just completed this 16" lifetime achievement award for an executive in the cosmetics and fragrance industry. The topper is silver, with a tendril of gold and two pearls. The metaphor is a fragrance bottle--the flower is another fragrance allusion. The first individual to receive this is a perfume maven. I hewed out and engraved the base. I designed the bottle and had a friend blow the glass form.
3/5/2008: W. Scott Braznell will be giving a talk in Detroit on March 29th entitled "Arts and Crafts Metalwork in Detroit: Promotion / Patronage / Production." You can read the entire program here.
2/20/2008: Fred Zweig will be teaching a Making Faces Workshop, Chasing and repousse, Tucson Parks & Recreation (Randolph Center), Tucson, Arizona, Class Code: 48473, March 8th & 9th. Online registration: www.ezeereg.com, tel: 520/573-3933.
Fred will also be teaching a "Pin Ups" workshop: techniques in pin fabrication and fibulas, Idyllwild Art Academy, Idyllwild, California, Course # AAJW ØØ-E, June 22nd – 26th. Online registration: http://www.idyllwildarts.org/summer/registration/registration.html, tel: 951/659-2171.
1/30/2008: Tom Muir recently completed "Twin Risers" (pictured right). See how he created it by clicking the following three links: body fabrication, spout & handle fabrication, hinge fabrication. Pure genius! Tom says: "Some people were asking how I soldered the sheet sections out of 18 gauge without warpage and most of how I did that are illustrated in these photos. I was very pleased with the hinge and with my eyesight, which I thought had deteriorated significantly. I sawed and filed it by hand to four one hundreds of a millimeter." This piece is also on the Creative Process page.
1/30/2008: Linda Weiss reports that one of her vessels (Copa d'Oro) is featured as the cover of the Mendocino Art Center Spring 2008 catalog. She will be teaching a beginning raising workshop there end of April. Linda also has another vessel (Hemerocallis Hybrid) included in 500 Metal Vessels, a book by Lark publications - vessels were selected to be included by SAS Artisan Member Fred Fenster, professor emeritus - Art Dept. University of Wisconsin ( Cranbrook Art Academy alumnae). Also - 3 rings included in another recently released juried Lark publication, 500 Wedding Rings.
1/26/2008: Munya Avigail Upin will be teaching a PMC workshop at the DeCordova March 1 & 2. For info go to www.decordova.org. Munya is also working on two Mezuzot and a Ner Tamid (eternal light) for a synagogue in NY. The pieces should be done within the next two months.
1/26/2008: Cynthia Eid will be teaching the following workshops: February 2-3, 2008, Creating with Argentium Sterling Silver: Tips and Procedures for Working with Sheet and Wire and Granules,Metalwerx, Waltham, MA http://www.metalwerx.com/index.php; February 21 - 2/24 Creatively Moving Metal: Working with the Hydraulic Press," Metalmorphosis Studio, Fort Lauderdale, Florida, susan@SJLMetalArt.com; April 26-27, 2008, Creating with Argentium Sterling Silver:Tips and Procedures for Working with Sheet and Wire, League of New Hampshire Craftsman, 13 Lebanon St - Hanover, NH 03755, Phone: 603/643-5384, http://www.nhcrafts.org/hanover/; August 6 - August 10, Master Class: Forming with the Hydraulic Press, Metalwerx, Waltham, MA, http://www.metalwerx.com/index.php
1/22/2008: TREASURED VESSELS: the art of the teapot Gump's cordially invites you to the opening night preview A selection of beautiful forms ranging from the elegant to the playful, the practical to the decorative, in various media, interpreted by our featured artists, artisans and designers. Thursday, February 7, 2008, 5:30 to 7:30 p.m., Gump's 135 Post Street San Francisco, California. R.S.V.P. 415/984-9250
Cocktails and hors d'oeuvres.
The exhibition continues through March 28, 2008.
Presenting: Michael and Maureen Banner, Paul Benson, Alice Corning, Jack and Marilyn de Silva, Heath, Cliff Lounsbury, Roy McMakin, Laurie Marson, Merrill Morrison, Frances Palmer, Gregory Roberts, Inge Roberts, Leslie Roth, John Scott, Richard Shaw
1/19/2008: Pauline Warg will be teaching a week long workshop at the Armory Art Center (www.armoryart.com), West Palm Beach Florida 2/18-2/22/08,as part of their Masters Seminar Program. The Topic will be around her book: Making Metal Beads, and will also include: surface design and texture, mixed metals techniques to make patterned sheet metal.
1/1/2008: Linda Weiss's vessel "Copa d'Oro" is featured on the cover of the Spring course catalog for the Mendocino Art Center.
9/6/2007: Linda Weiss's gold & platinum vase with the detachable brooch is in the new Lark book 500 Metal Vessels. She will also have three pieces included in the soon to be published 500 Wedding Rings, also by Lark.
8/17/2007: From Val Link: As many of you know, I have been teaching Jewelry and metalsmithing at the University of Houston since 1970. After 37 years in this wonderful field I am retiring. As of August the 26th I will be fully retired and available to do my own thing. Although I am retired my enthusiasm and love of metalsmithing has not diminished and I would like to continue teaching through other venues. If there are any sign-up sheets out there for doing workshops, short term teaching arrangements please include my name. Thanks for doing such a superb job with SAS and hopefully you will be able to continue for many years to come. Thanks, Val
7/30/2007: John Marshall Receives 2006 Hans Christensen Sterling Silversmith's Award!
Jeffrey Herman, Executive Director of the Society of American Silversmiths announced that John Marshall has been selected to receive the 2006 Hans Christensen Sterling Silversmith's Award. This lifetime achievement award for many reasons. He's produced astounding large-scale and innovative pieces throughout his career. His amazing ability to move metal and push the material to its absolute limits is nothing short of phenomenal. Many of his major commissions have combined silver and some of the world's largest natural gemstones. Simply handling these major specimens while creating support structures for them is a feat in itself. Marshall's teaching skills, including establishing the metals department at the University of Washington, have produced many admiring and successful metalsmiths. John Marshall is a humble and driven artist who has given the world a totally new and exciting way to appreciate silver.
In addition to images of his work and a biography, John produced a short video. At only two and a half minutes, it shows Marshall working on tour de force pieces of silver. I know it will knock your socks off.
2/25/2007: In November 2005, Pauline Warg and her husband Gary opened WARG Enamel and Tool Center in Scarborough, Maine. The Studio / Gallery /Store offers classes year round in jewelry making, enameling and silversmithing. There is a gallery featuring the work of Pauline Warg. They also have a full service tool and supply store selling from companies such as Ikohe, Grobet, Eurotool, Helby, Paragon Kilns,Thompson Enamels, Amaco and many others. They carry metals, gems and findings. Making Metal Beads: Techniques, Projects, Inspiration by Pauline Warg, (LARK BOOKS) was released in August of 2006. For all the info., visit Pauline's Web site at wargetc.com.
2/9/2007: John Cogswell recently received two distinctions:
Celebrating John Cogswell - 2007 Artist of the Year
From Touchstone Center of Crafts: While our mission is to advance excellence in the arts and crafts by educating and encouraging individuals to develop technical skills, good design, and innovative expression, Touchstone is really about the people who make it such an amazing place. No one fulfills our mission and epitomizes the spirit of Touchstone more than John Cogswell. He is an excellent instructor, an incredible talent, and he gives so much of himself. He has been teaching at Touchstone ffor 21 years, and each time he comes to campus, he brings something new and fresh.
John's contributions over the years are far too many to list. However, we do thank him for initiating our Summer Weekly Auctions, for continuing to raise the bar for all of us, and for bringing his wonderful, wacky sense of humor to the campus.
John Cogswell is a studio goldsmith, silversmith, and educator, and currently teaches at SUNY New Paltz. He previously taught at Parsons School of Design, New York City, and was the director of the Jewelry and Metalsmithing Department at the 92nd Street Y in New York City, the largest adult education program of its kind in the country.
He has also taught at Pratt Institute and Hofstra University, and has conducted numerous workshops at such locations as Haystack, Penland, Peters Valley, Touchstone, Brookfield, and many others.
John has served as a technical consultant and contributing author for several contemporary jewelry texts. His work has appeared in numerous exhibitions and publications, and is included in many public and private collections, including the Jewish Museum in New York City and the Ackland Art Museum in Raleigh, N.C. He was recently selected as the 2006 inductee into the National Metalsmiths' Hall of Fame.
Touchstone is very fortunate to have John as part of our family, and we are thrilled to honor him as Artist of the Year for 2007, our 35th anniversary year.
John Cogswell was Inducted Into the Florida Society of Goldsmiths National Metalsmiths Hall of Fame, 2006 Artist/Arts Educator category.
The National Metalsmiths Hall of Fame was established in 1999, with Kurt Matzdorf as the first recipient. In 2000, Phil London was given the award in the category of Arts Patron. Ramona Solberg received this award in 2002. Mary Ann Scherr and Jack Prip received the award in 2002. John Paul Miller received the award in 2003. Bob Ebendorf and Mary Drutt English were honored in 2004. The award recognizes outstanding contributions and consistent support of the metalsmithing arts.
The Hall of Fame is housed at The Arts Center in St. Petersburg, Florida and maintains a permanent display with photos of each recipient and an example of their work. The award itself is a collaborative effort. It was designed by Phil London and Julia Woodman, who constructed the silver tessellated piece. Ken Wynsma, woodworker and metalsmith, constructed the base. We hope you are as excited to receive this award as we are to present it to you.
Congratulations!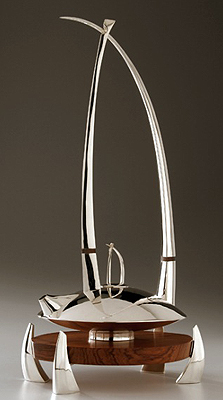 2/8/2007: Michael Banner's magnificent sterling and rosewood "Mother and Child" was recently purchased by the Museum of Fine Arts in Boston. Congratulations!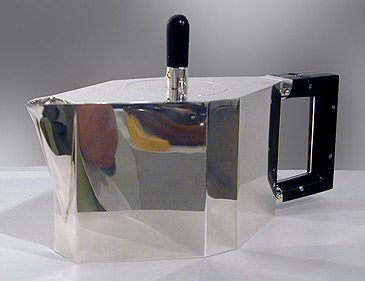 1/4/2007: This Alfred Ward silver teapot , styled after the work of Christopher Dresser, was commissioned for an exhibition at the Blue Spiral Gallery in Asheville, NC. The exhibition was entitled "Fire & Ice" and included any object that represented hot or cold liquids
11/18/2006: 25th Anniversary Celebration: Robyn Nichols 25thAnnual Precious Metals Exhibition
Kansas City, MO – Robyn Nichols, an internationally acclaimed metalsmith based in Kansas City, announces her 25th Anniversary Exhibition. The exhibition's opening will include a free public reception on December 1, 2006 from 6:00 – 9:00 p.m. at The Pearl Gallery. Nichols stages her metal works among creative performance art, mingling art and fantasy to make her annual exhibitions one of the most anticipated events in the Crossroads Arts District. Nichols' holiday events are legendary among those on Kansas City's arts scene, centering on such themes as The Clue, Contained Beauty, Naughty or Nice, A:MAZE Silver, Sugar and Horsepower. This year's 25th Anniversary Celebration promises to showcase Nichols' most celebrated works in one event.
This year's 25th Anniversary Exhibition showcases the elegant styles and sophisticated designs that have defined Nichols' career. For this special event, Nichols is gathering one-of-a-kind, specially commissioned works from the past 25 years. Guests will have the rare opportunity to witness the evolution of an acclaimed artist, from her modest beginnings to her current successes. Nichols knows "it's going to be exciting to look back on the work that has built up over all of these years." After viewing, guests will be encouraged to create a wish list from Nichols' collection to make for easy holiday gift giving. The show will be open on Saturdays from 12:00-4:00 p.m. (or by appointment) and will run until December 22, 2006.
The exhibition will not only introduce new designs from one of the Crossroads' most successful artists, but will also feature a collaboration with fellow Kansas City artist Michele Hester. Hester is the president of the Silkpaint Corporation and creator of SugarVeil, used by professional chefs to fashion elaborate dessert decorations.
A testament to both artists' imagination and ingenuity, Hester and Nichols fuse elegant silver jewelry and sumptuous confections to create unique works of edible art.
A graduate of Kansas City Art Institute, Robyn Nichols' is a self-taught metalsmith who works using sterling silver and 18 karat gold to fabricate designs with hollowware, shell forming, repoussée, chasing, and forging techniques. Nichols' work is in the permanent collections of the Smithsonian's Cooper-Hewitt National Design Museum and the Contemporary Art Center of Virginia. Her tableware is currently showcased in a special exhibit at the Cooper-Hewitt museum entitled Feeding Desire: Design and the Tools of the Table, 1500-2005. Nichols' graceful and elegant jewelry and tableware are sold and collected across the United States, Canada, Australia, England, South America and the Caribbean. Nichols' collection includes jewelry for men and women, tableware, and Judaic art that are appropriate for the holidays and other gift-giving occasions. Her private and corporate commissions have commemorated occasions for clients such as Hallmark Cards, H & R Block, Pepsi Cola Bottling, Coors, University of Missouri-Kansas City and Saint Luke's Hospital.

8/24/2006: The Society of North American Goldsmiths (SNAG) bestowed its prestigious Lifetime Achievement Award on Kurt Matzdorf, Professor Emeritus of Gold and Silversmithing at the State University of New York, New Paltz, for a lifetime of exceptional service and achievement in the metal arts field. The award ceremony took place on Friday, May 26 at the 2006 SNAG Conference in Chicago, with Matzdorf giving a short slide presentation of his life and work.
Kurt Matzdorf is one of the founding members of SNAG, present at the very first meeting in 1968. His record of accomplishment as a teacher, maker and mentor is virtually unparalleled. For more than 75 years, he has been making art, and for over 50 years, that art has been in our community. A survivor of Nazi Germany, he ties art and life in everything he does. His work celebrates life's rituals and triumphs.
His development of the metals program at New Paltz led it to new levels of professionalism and success. His students have gone on to become today's leaders in our field.
The record of Professor Matzdorf's personal accomplishments is extraordinary. His ceremonial work is known in both academic and liturgical circles throughout the world. He is exhibited in major public museums on both sides of the Atlantic, including the Victoria and Albert Museum and the Jewish Museum, Berlin.
SNAG established the Honorary Membership Award to honor individuals who have made lasting and significant contributions to the field of contemporary metalsmithing. This award was renamed the Lifetime Achievement Award in June 2005 by vote of the membership. The Lifetime Achievement Award Committee, appointed by the Board of Directors, selects the recipients of this prestigious award from nominations submitted by the SNAG membership. Past honorees include Helen Drutt English, Arline Fisch, Oppi Untracht, the late Philip Morton, and Margaret Craver.
The award itself is a stunning sterling silver vessel on a black marble base, made by Cynthia Eid. Hers was the winning design in SNAG's competition in 2002, and will be used for years to come.
4/3/2006: Mexico-based artist Rocio Heredia was awarded the Fred de Vos Wax Workshop in Venice 2005 Scholarship. During October 15-22, 2005. Ms. Heredia traveled to Venice, Italy where she participated in wax model making workshop for jewelry, instructed by Fred de Vos.
2/7/2006: Munya Avigail Upin is teac hing a class on Precious Metal Clay (PMC), Wednesday mornings 9:30 - 1:00, March 1- April 5, DeCordova Museum School, 51 Sandy Pond Rd., Lincoln, MA 01773, 781/259-8355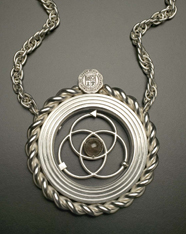 3/2/2005: Professor Tom Muir recently completed a ceremonial medallion for Bowling Green State University President Sidney Ribeau. This medallion, weighing 453 grams and taking 100 hours to create, replaces the one created in 1964 by former BGSU professor Carl D. Hall for the inauguration of President William Jerome, depicting a "tree of knowledge" and symbolizing the university's growth at the time.
The medallion, created by Muir, symbolizes the values of Ribeau's administration: intellectual, spiritual and creative growth; learning community; inquiry and discovery; and collaboration and collective effort.
The design features three interlocking rings, set inside a set of concentric rings and encircled on the outside by coils. This reflects the interconnectedness of the university.
In the center is a rutilated quartz sphere, resembling a mini-universe, and representing the university's global perspective. Both Muir and Ribeau were cognizant of the need to have it be at once contemporary and yet reflect traditional design so that in future years it would not become dated. That, too, reflects the mission of the university, to have both a solid foundation while looking forward.
The entire medallion was fabricated from sheet and wire rather than relying on casting processes. The resulting medallion has more integrity and reflects a higher level of technical accomplishment.
When presented with the finished work in December 2004, Dr. Ribeau was most pleased, stating that it exceeded his expectations.
"It's the visible face of what we're trying to do at the university." Dr. Sidney Ribeau on the medallion
2/17/2004: Fred Zweig: I sent several of my sterling and copper pieces for display during the Modernism Show at the Park Avenue Armory in New York City Nov 13-16, 2003. I am thilled to have my work exposed to such a discriminating audience. The visitors to this show are both the general public and dealers from around the world. After the close of the show: "The show went well. I got some exposure and made a few sales. I even got a commission to raise a large copper fluted bowl."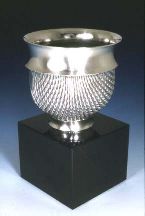 10/4/2003:Jurors Bernard Bernstein, Lane Coulter and Mary Ann Scherr unanimously chose Cynthia Eid's vessel (pictured right) as the winning design in SNAG's Honorary Member Award design competition. Hers was the winning design in SNAG's competition last year to create a new award that will be used for years to come. The award itself is a stunning sterling silver vessel on a black marble base. The bowl is microfolded, and then formed though use of the hydraulic press and hammers. The added anticlastic rim is engraved in commemoration of the honor. Eid's bowls will be presented to recipients of the SNAG Honorary Member Award, which recognizes people who have made important contributions to the fields of jewelry and metalsmithing. Past honorees have included author and jewelry historian Oppi Untracht, and gallery owner and collector Helen Drutt English. Eid received a $500 credit for Allcraft tools courtesy of Tevel Herbstmann, in addition to payment for each bowl made.
Cynthia's detailed description of the bowl: Dimensions: 3" tall, 2.75" diameter Argentium sterling silver vessel, 2.5" x 2.5" x 2" marble.
The bowl is microfolded (corrugated and cross-corrugated with a microfold brake made by Bonny Doon Engineering), and then formed though use of the hydraulic press (deep drawn) and mallets. The anticlastic rim is a seamless section of deep drawn argentium, hand formed over hammers and stakes (SNAG then has it engraved in commemoration of the honor). (I made a sterling bolt, and attached it to the bottom of the bowl, hidden by the foot. I threaded sterling rod to attach the vessel to the marble.)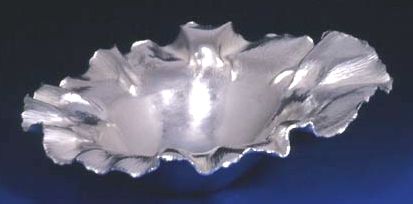 10/2/2003: Cynthia Eid was recently named a finalist in the hollowware category of the 2003 Saul Bell Design Award competition for jewelry design. Her design "Waves" (pictured right) is a stunning sterling silver hollowware bowl created from a 12" x 12" sheet of 18-gauge Argentium sterling silver. With a 50-ton Bonny Doon hydraulic press, Eid used the deep-draw method to form the bowl. With mallets, different stakes and hammers, she added the textures, curves and "waves" to finish the design.
From hundreds of submissions, Eid was chosen as one of the finalists in the third annual Saul Bell Design Award competition. Rio Grande honored eight winners and one Grand Prize winner at the JCK Las Vegas Show in June. The annual competition honors Rio Grande¹s founder, Saul Bell. This year¹s competition challenged jewelry designers to create original and innovative pieces in any of four jewelry categories, plus a special hollowware category sponsored by 3M.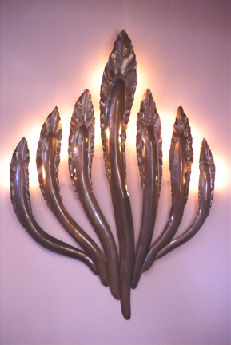 Cynthia Eid recently completed and installed this menorah (pictured right) commissioned by Temple Beth Abraham in Nashua, NH. It is 5 feet tall and 3 1/2 feet wide, made of made of 16 gauge copper---patinaed and lacquered. The rough forming was done using a mushroom stake in a 50 ton press to push the copper into urethane, in much the same way that a ball peen hammer and a depression in a stump might have been used, if this had been a smaller piece. The planishing and texturing was done with hammers and stakes.
5/19/2003: Cyithia Eid reports: Michel Royston's work looks fabulous at Crafts Boston at the Hynes auditorium. Hop in your car, quick, and go check it out!
Elizabeth Nutt is giving a talk at the Lexington Arts and Crafts Society on Waltham St. in Lexington, MA at 7p.m. Monday night, May 19th, 2003.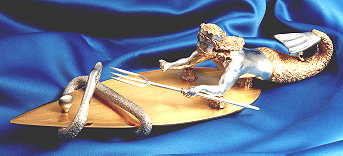 2/1/2003 This slice (pictured right) is a piece Roger Horner did for Seymour Rabinovitch (finished the Fall of 2002). The design was conceived by one of his grandsons. The young man was ten when he made the sketch. The blade is 10" long for a size reference. All the metal is sterling except for the gold plating here and there. A Labradorite double-faced cab is set in the curl of the merman's tail. The piece is all cast except for the blade.
I havn't seen Seymour for several months but he and Flora are back from England now and we will have dinner with them at Ramona Solberg's ([one of my Professors) on February 4th. He usually has some new lovely slice to show so I am looking forward to the occasion.
1/26/2003 Valentin Yotkov won the "Best Sculpture Award" in The Master of 2002 Competition at the BTDesign Art Gallery Ravenna, Italy.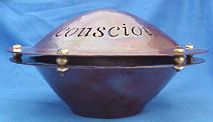 1/23/2003 Fred Zweig finished this bowl (pictured right) for the invitational and it was well received. It posed an interesting challenge in both subject matter and execution. It was created for a show commemorating the Hispanic celebration of the "Day of the Dead." Titled "Vessel of Sheol" and constructed of two raised bowls secured with altered brass screws. The words pierced on the top bowl are taken from Ecclesiastes refering to the consious state of the dead.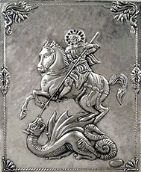 12/25/2002 The Metalsmith Beauty and Deity (pictured right) of Rocío Heredia is in Season. Read the entire article here!
8/9/2002 Congrats go to Boris Bally and Lynn Taylor who have a new baby girl: Aila Taylor Bally, born naturally on July 28, 1:10am, 6 lb.s 15 ozs.
7/3/2002 Fred Zweig reports that he is busy making sterling collars and received an order for a sterling spoon. The bowl I was commisioned to raise was well received and I will be raising another bowl for an invitational exhibit this September.
7/1/2002 Munya Avigail Upin has been hired by Wellesley High School to teach in their jewelry program. She's also teaching two workshops at the DeCordova Museum School in the Fall.
5/3/2002 Fred Zweig just got a commision to raise a simple copper bowl for a client in Laguna Beach. This could develope into further commisions as well.
Fortune shined upon him as well when he discovered and purchased two handwrought sterling candlesticks at a local antique store. "You can imagine my delight when examined them and descovered they were made at Arthur Stone's shop. It is such a treat to be able to see the fine craftsmanship that went into this pair."
3/21/2002 John Fix will conduct a weekend workshop, FORGING NON-FERROUS METALS, at Touchstone Center for Crafts in Farmington, PA; May 24-26. For more information call: 800-721-0177. He will conduct a 5-day workshop, FORGING NON-FERROUS METALS, as part of Common Ground on the Hill 2002: American Music and Art Festival at Western Maryland College in Westminster, MD; July 8-12. LINDA VAN HART will teach a workshop, PIERCING AND CHAINMAKING; July 1-5. For more information call:410/857-2771 or visit: www.commongroundonthehill.com.
3/15/2002 Valentin Yotkov was featured in the World Heritage program on the TBS Vision TV channel in Japan. I also participate in a show at the Lauren Stanley Gallery in NYC organized in conjunction with the conference at New York University: "Sterling Modernities: International and American Silver from the Arts and Crafts Movement to the Present." Lauren Stanley Gallery, March 12-April 27 2002, 300 East 51st Street New York.
OIlle Johanson also has work featured (bowl, spoon, and wedding crown with white and black pearls) in "Sterling Modernities: International and American Silver from the Arts and Crafts Movement to the Present."
3/14/2002 Kathy Hart is in a solo show, opening Tuesday, April 2nd, at 5pm, which is multi-media - silver, sculpture, paintings and prints. It is a Holocaust Memorial Show, put on annually by ARTSWorcester and Quinsigamond Community College, Worcester, MA. I have enclosed front and back of the postcard for the show. She completed a commission of five High Holiday Torah covers for the Chicago Sinai Congregation, complete with fabric covers, and encrusted around the bases with 350 sterling silver leaves, linked in a chain curtain.
3/14/2002 From Fred Zweig: I have been raising bowls... Lots of bowls... I'm bound to get it right one of these days. I have had plenty of time on my hands and raising seems to keep me busy and it drives the neighbors mad! Actually they are very tolerant since I limit it to the daylight hours... My shop is small so I work outside under an awning. I have to move the stumps around to avoid having the sun reflect into my eyes. The shapes are simple and reminiscent of the Arts & Crafts Movement era. I am intentionally replicating these to pay homage to these craftsmen who proceeded us. I am learning a great deal about how forms developed. So many shapes are a result of the techniques we use as craftsmen. I have been letting the metal do some of the design for me.
I have seen some of the images of the shops of others and am impressed at the quantity and organization of the tools. Alas I have to scrounge tools where ever I can find them...Tucson is not the place to find metalsmithing tools. I manage to pick up a hammer here and there or modified chunks of metal polished with an angle grinder to form stakes. I have found a source for dollies used in aircraft bodywork and they are easily modified to any shape you might need. I often start raising using a maple stake and a metal raising hammer. I have purchased some fine hammers made for me by a smith in Maine. Would love to hear of the working experiences of others.
Munya Avigail Upin is in the Paradise City Arts Festival in Marlborough on March 15-17th. It is located at the Royal Plaza Trade Center, 181 Boston Post Road West. Take Route 495 to Exit 24B, the Trade Center is one mile ahead on the right. The hours are Fri 15th, noon to 8pm. Sat- 10am to 6pm and Sunday the 17th from 10am to 5 pm.
2/19/2002 Alix Mikesell announces the founding of the Chicago Metal Arts Guild! We are a non-profit corporation dedicated to fostering community among Chicago area metalsmiths and jewelers as well as promoting our field to the general public. Planned activities include artists' lectures and workshops, and various exhibitions in local gallery spaces. For more information contact Alix Mikesell: 773/235-3695,<alixmikesell@hotmail.com>.
2/14/2002 Pauline Warg will be teaching Tool Making (chasing, stamping, matting) at Wolf Designs in Portland, Maine, March 9,2002 and September 25, 2002. (www.katewolfdesigns.com).
12/6/2001 Sue Amendolara is showing her work with her husband Bill at the James Prendergast Library Art Gallery in Jamestown, New York, December 7-January 11, 2002. For information, call 716/484-7135.
11/2/2001 Susan Ewing, Robly Glover, Kathleen Hart, and Wendy Yothers will be participating in "Round About: Reinventing the Wheel" at the National Ornamental Metal Museum in Memphis, TN, December 2, 2001–April 21, 2002.
10/14/2001 Sue Amendolara and Linda Kaye-Moses are participating in "Millennium Metal, The Art of Precious Metal Clay" at The Lynn Tendler Bignell Gallery in Brookfield, CT. This unique national profile exhibition of exciting contemporary fine art jewelry and sculptural objects has been curated by Linda Kaye-Moses. It showcases fine designer craftwork that is either entirely, or substantially, made from the new art material known as Precious Metal Clay. Work selected for this show explores the special potential of this unique material. Participants include both invited and juried artists who were selected for their ability to take this new medium in exciting new directions. The exhibition runs through October 21, 2001.
10/12/2001 Charleen Weidell, Grand Prize Winner of the 2000 Student Silversmiths Competition, has a web site. See more of her fantastic student work here.
10/11/2001

Cynthia Eid and

Robert Oppecker were honored with pieces chosen for the 13th Silver Triennial, a tradition in Hanau as an international event for the promotion of the art of the silversmith. Robert's piece is a sconce for flowers and has a sterling hook that mounts to the wall to hang it. It is supposed to be viewed vertically, but the hanging issue appeared to stymie photographers. Congratulations!
10/9/2001 Metal Artist Maria del Rocio Heredia from Monterrey, Mexico, will be conducting an intesive workshop on repoussé and the hand embossing of metals, at the Stockton Jewelry Arts School in Stockton, California, October 19, 20, and 21. Maria has presented a recent exhibition at the Loyola Cultural Center in Monterrey, Nuevo Leon, Mexico and her work may be viewed on-line at http://www.rocioheredia.com.
9/29/2001 From the Washington Hebrew Congregation Journal: Dorothy Gordon, a member of the WHC since 1957, looks a doting grandmother right out of central casting; a tiny cherubic woman who might delight in baking for her grandchildren when she isn't knitting them sweaters and scarves. While Dorothy may very well be an accomplished baker and knitter, grandchildren who come to visit are more likely to find her working diligently in the metal workshop of the home she shares with her husband, Ben.
The Fine Arts Committee is proud to present an extensive exhibition of Dorothy's hand crafted silver and gold treasures in Kreeger Lobby beginning Friday, December 1, 2001. The Congregation is invited to meet Dorothy at a reception in her honor from 7:00 to 8:15 p.m. prior to Shabbat service, with a special Oneg Shabbat to follow.
Dorothy is a prolific silversmith of national stature whose work and professional accomplishments belie a lifetime devoted to art and the painstaking perfection of a centuries old craft. Her stature in the world of fine metal work is evidenced by her invitation into the exclusive 75-member Society of American Silversmiths. She is also a member of the Washington Society of Goldsmiths.
Featured in the exhibit is the Temple's Havdalah Set (made at the request of Rabbi Weinberg) which was completed and dedicated in 1995 after almost two years of work. Other pieces exhibited include exquisite sterling silver candlesticks, bowls, Kiddush cups, jewelry, varied serving pieces and ritual objects. Each is a one-of-a-kind piece. Except for a few chains, everything is made completely by hand, a rarity even among established silversmiths. Many of the pieces contain semiprecious stones, Hebrew lettering and design influences from architecture to nature.
We are most fortunate to have approximately 70 pieces of Dorothy's work for this special exhibition, "Precious Obects," and look forward to honoring her at the opening reception on December 1.
9/29/2001 Michael Banner and wife Maureen will be participating in the Paradise City Art Festival in Northampton, MA, October 6-8. Show infomation: 800/511-9725. Also at the Westchester Craft Show at the Westchester County Center, October 19-21. Show information: 203/254-0486.
9/10/2001 Anika Smulovitz will be participating in a MA exhibition at the 743 Gallery, University of Wisconsin-Madison. The opening reception is Saturday, September 15, 6-9pm.
7/22/2001 Pauline Warg will be the featured artist for the month of August at the League of New Hampshire Craftsmen's Concord Shop Gallery, Concord, NH. She will be teaching a 35 hour Intensive Intermediate/Advanced Metalsmithing seminar at the Maine College of Art in August.
7/6/2001 Congratulations go out to Billie Jean Theide & Rimas Tadas VisGirda and their new baby: Tadas Walter VisGirda, born July 2, 2001, 2:52 pm, natural birth,12 hours labor, 10 fingers, 10 toes, excellent conehead, great lungs, 7 lbs. 7 oz., 20.5 inches. Go here to see the baby.
5/16/2001 Welcome to our newest Artisan member Susan Wood-Onstad from Mendocino, California. Click here for a complete list of Artisans.
5/5/2001 John T. Fix recieved an Individual Artist Award in Crafts for FY 2001 from the Maryland State Arts Council. He was selected for the $1 000 grant based on his recent silver hollowware and sculpture. He also was awarded a second place prize in Metal/Enamel at the 23rd Biennial Juried Exhibition sponsored by The Creative Crafts Council of Washington, D. C., at the Strathmore Hall Arts Center in Bethesda, Maryland, Feb.22 April 7, 2001.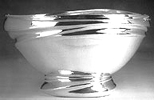 3/23/2001 In conjunction with the SNAG conference in Richmond, Robert Oppecker had two pieces accepted into The Millennium Metal Show at Artemis Gallery. John Crutchfield the owner of the gallery footed the bill for awards in ten categories, each award being $500.00. One of my pieces one the award "Best in Holloware & Metal Formation." The jurors for the awards were John Crutchfield-Artemis Gallery, Ron Wyancko-James Madison University, Pam Siers-Artisans Center of Virginia, and Judy Donald-OXOXO Gallery.
The piece that won the award was a sterling silver baptismal basin (pictured above) entitled "Liquid Silver: Dedicated to the enduring memory of Richard Reinhardt." Dimensions are (14.25" L x13.25" W x 7.25" D). The weight approx. 81 troy ounces. The piece was created 1/1/2000.
3/14/2001 Preston Jones was featured on the cover of Colonial Williamsburg, Winter 2000-2001. Master silversmith James Curtis and journeyman Gayle Clarke were pictured in the article: Silversmithing at the Golden Ball, a depiction of what silversmithing was like during colonial times.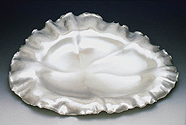 The work of Cynthia Eid (cover of the announcement and pictured right) and Fred Fenster was featured in the exhibition "Tevet to Av: Celebrating Contemporary Judaica," on view at The Gallery of Design at the University of Wisconsin-Madison from January 30-March 8, 2001.
In the announcement: "The tradition of creating Judaica or Jewish ceremonial objects has been carried on by artists for thousands of years. The beautifully designed and finely crafted works by twenty-two contemporary artists selected for this national invitational exhibition are evidence that this tradition is flourishing."
2/15/2001 Mueller Kaiser Plating Company proudly celebrates its 90th anniversary of service. Mueller Kaiser was established at the request of religious authorities for the plating and restoration of chalices, ciboria, altar ware, monstrances, kiddush cups, torah crowns, and other metalware.
Noted commissions include two ornate English altar wine flagons and an ornate processional cross for an Episcopal cathedral--and the historic gilded silver chalice of noted American missionary explorer Father Jacques Marquette, S.J., used by Pope John Paul II at the 1999 Papal Mass. Noted restorations by the firm include an ornate 17th century Bavarian Baroque Monstrance and Reliquary, as well as Spanish Colonial chalices and altar ware brought to America by missionaries. Also restored by the firm are the snuffboxes of Col. Meriwether Lewis of the Lewis & Clark Expedition, and the sword and scabbard of the Marquis de Lafayette.
The Society congratulates Mueller Kaiser Plating Company and the Kaiser and Mueller families on their achievement of 90 years in servicing the liturgical and metal arts fields.
They offers SAS members 15% off gold & silver plating and refinishing on non-repair items. For selective plating/refinishing, please stop-off in advance of requesting an estimate. Members are asked to pay for return shipping should a job estimate not be approved. Mueller Kaiser Plating Company, 5815 Hampton Ave., St. Louis, MO 63109, 314/832-3553,Web: www.Mueller-KaiserPlating.com
1/29/2001 Sue Amendolara and Cappy Counard Wolf will be exhibiting their work at the Elzay Gallery of Art at the Wilson Art Center of Ohio Northern University in Ada, Ohio. The show runs from February 4-March 2, 2001. For more details call the gallery at 419/772-2160.
1/19/2001 Recently named as one of the craftspeople to receive a League of New Hampshire Craftsmen Lifetime Achievement Award, silversmith Elizabeth Nutt tells of an inspirational experience she had at the Annual Craftsmen's Fair when she was only 12 years old.
As a teenager, I attended summer camp in NH and was taken to the Fair. David Campbell was the League's director and I was introduced to him. He had brought a friend of his from NY City, Irina Brynner (Yul's cousin), to lecture and give demonstrations. She was an international famous jeweler whom I found sophisticated, dramatic and very exciting. She was encouraging to me, a naive kid from Cleveland, and I was enchanted by her creations, her Russian accent and her renown as a jeweler. She was a major influence on me and made me believe that I too could be a successful silversmith in a field that at the time, was totally dominated by men.
1/17/2001 Cynthia Eid and Munya Avigail Upin are both showing their work at Mobilia Gallery in Massachusetts. Called "The Ring," the show runs in conjunction with a symposium at Massachusetts College of Art and will run from February 10-March 3, 2001.
Cynthia and Munya are also in the "Faculty" show at the DeCordova in Lincoln, Masachusetts, up now through February.
Munya is having a public showing of her work in conjunction with a slide presentation at Beth El Temple Center in Belmont, Massachusetts on March 28th at 7:30. In June, she will be teaching at the Mid-Atlantic Fiber Association Conference at Towson University near Baltimore, Maryland. In June, Munya will be teaching a five-day workshop on "woven metal techniques" at the Oregon College of Arts and Crafts in Portland, Oregon.
12/19/2000 Robert Oppecker received an Individual Artist Fellowship Grant 2000/2001 from the Commonwealth of Virginia Commission for the Arts.
12/2/2000 Robyn Nichols is in a show at The Pearl in Kansas City, MO. Entitled "Essentials Elaborations," the sho runs through the 23rd.
10/4/2000 Kathy Hart will be teaching a workshop at the 92nd St. Y in New York, November 5th and 12th, entitled "Women's Ritual Objects." "Women have been creating new rituals meaningful for their increasing participation in Judaism and have added ritual objects to enhance them. Create an object for and about women's roles and inspirations, using individual creativity and basic metals techniques such as sawing, shaping, cold-joining, and surface enrichment. No experience required." For information, contact the Y at 212/996-1100.

Munya Avigail Upin will be in the following shows: "Living In The Moment" September 25, 200-June 29, 2001, Hebrew Union College, Brookdale Center, One West 4th St. New York.
"Heaven on Earth: Divine crafts for Jewish Homes and Traditions," October, 2000-December17, 2000, JCC of Greater Washington, 6125 Montrose Rd., Rockville, MD 20852.
Teaching the "Woven Metal Techniques" workshop at Worcester Center for Crafts, September 24-25, 2000, 508/753-8183, and at the Pennsylvania Society of Goldsmiths, Nov. 11-12, 2000, contact Munya at 617/489-3710 for info.
Boris Bally has a busy exhibition schedule: "Hand-crafted Functional Objects," opens at Museum of the Southwest, Midland, TX, Jan 28, 2001, travels until Jan 7, 2004. Curated by Robert Logan, catalog available.
"2000 Objects for the New Millennium," Gallery 91, New York. Part 4: Universal Design, July 25th-September 2nd.
Farbige Dinger, Heinz Brummel and Boris Bally, Mainstreet Studio and Gallery, Deer Isle, ME, August 13-September 13.
"Consumed: Fine Craft Inspired by Popular & Media Culture," Craft Alliance, St., Louis, MO. Curated by Angela Reinoehl, September 15-October 29, 2000.
Riveting Metal: Exploring the Possibilities in Metal, Vermont State Craft Center, Frog Hollow, Curated by Karen Wark, Burlington, VT, September 15-October 29, 2000.
Penland School of Crafts, "Flatware Design and Techniques," TENTATIVE dates: Session 3, June 24-July 6, 2001, info: www.penland.org.
"20 Years of Metalwork: Boris Bally," December 6, 7-9pm, lecture and reception at Metalwerx,10 Walnut St., Woburn, MA 01801. Info: 781/937-3532, or info@metalwerx.com.
5/19/2000 Congratulations to Artisan Boris Bally and his wife Lynn Taylor have a new baby boy! Born May 13 at 12:24am, Etai Taylor Bally weighed in at 7lbs. 15oz., and was 20" long.
11/15/1999 Jeffrey Herman recently repaired and conserved four large sterling trophies (one of which was over 30" tall!) for the International Tennis Hall of Fame in Newport, RI. He removed major dents and gouges, and gave all pieces a protective coating of Renaissance wax to preserve their finish.
11/13/1999 Sue Amendolara, Boris Bally, John Cogswell, Jack da Silva, Cynthia Eid, Susan Ewing, Randy Long, Kurt Matzdorf, Tom Muir, Billie Jean Theide, and Munya Avigail Upin are participating in "Magic and Ritual: Hannukkiahs Seen Through Contemporary Eyes." Curated by Robert Schroeder (Fort Wayne Museum of Art). Steinbaum Krauss Gallery, 132 Greene Street, NYC 10012, 212/431-4224. Show dates: November 27-December 30, 1999, and traveling. Reception: Saturday November 27, 1999.

Back to Home Page | Society Info | Artisan Gallery | Silver Events
The Creative Process | Membership Benefits | Member News | SAS Publications
The Library | Glossary | Silver Care | Restoration & Conservation
Referral Service | Technical & Design Support Service | Silversmithing Programs
Workshops | ShopTalk | The Darkroom | Hard-to-Find Suppliers
Career Center | Other Sites of Interest | Member Forum | Live SilverChat
Updated 9/1/2011
© Copyright 1997-2011 Society of American Silversmiths